Stella learns how to tackle the issues that the world faces today through a Bachelor of Global Studies.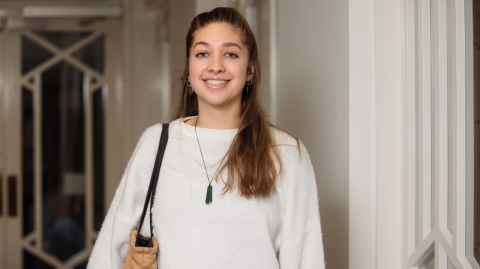 Key facts
Iwi: Ngāti Maniapoto 
Programme: Bachelor of Global Studies / Bachelor of Advanced Science (Honours) conjoint
Majors: Global Environment and Sustainable Development / Environmental Change
"I chose Global Studies because I loved the option to continue my studies in te reo Māori and choose a major that allowed me to study an issue I am passionate about. I chose to study at the University of Auckland purely because of the Global Studies degree, which attracted me instantly.
"I have always felt at home in te taiao, nothing brings me more happiness than being in nature! When I realised the global and destructive effect of humans on the environment, protecting the treasures of our planet became the only path that interested me.
I enjoy being a sponge and soaking up all the knowledge! Mostly I enjoy that the subjects are very contemporary, as we are learning how to tackle the biggest issues being faced right now.
"The student lifestyle is early morning bus rides, lectures, tutorials, coffee breaks and a drink at Shadows after a productive day. On other days it's taking a day off and watching recorded lectures online.
"I have signed up to Ngā Tauira Māori, the Snowsports club and the Sustainable Future Collective. These all aligned with my interests and hobbies which enabled me to meet people who enjoy the same things.
"Once I graduate, I want to work in areas around environmental protection and Indigenous peoples. I have been working with MyCDES which helped me find some options.
"My advice to potential undergraduate students would be to think hard on your passions and interests, then find out as much as you can about a subject before you choose it. Secondly, enjoy it! University is a short chapter in your life before heading into a lifetime of full-time work, so have fun, look after yourself, and make the most of it."