Puna Whakaata Maniapoto-Love
Puna is studying a Bachelor of Arts/Bachelor of Laws, majoring in Māori Studies and Politics. She shares her experience as a first-year student.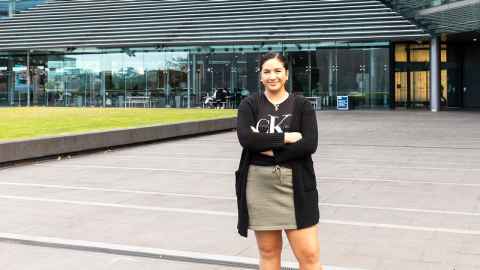 Puna, 18, is only in her second semester at the University of Auckland, and already she has a pretty clear idea of what her ideal future will look like. 
"Hopefully, I'll get into environmental law and work with Māori iwi, work with the land - something to do with helping my people."
Her decision to come to Auckland from her hometown of Gisborne was aided by the knowledge that various learning services and programmes would be available to support her, including the University's Tuākana programme. Knowing the support would be there was important to her, especially moving from such a small town.
"I knew everyone back home. When I moved to Auckland, I didn't really know anyone. It's definitely more diverse than Gisborne. But I think that's what makes it really cool."
Each faculty runs their own Tuākana programme, offering wānanga with tutorial support, course information and exam workshops for Māori and Pacific students. It's less like a programme and more a community, built around principles like kite ā-kanohi (face-to-face) and whakawhanaungatanga (establishing relationships). 
Dedicated workspaces and a chance for small-group learning complements the University's other learning environments. Tuākana is run by senior Māori and Pacific students who have excelled in their studies, acting as role models for junior students.
"Every week, they have a whole hour session for my politics paper," Puna says. "They help with any questions about the content, and yesterday there was a day of revision for the exam. When we had to do an essay, they had a day workshop for assistance with things like referencing. It was so helpful, and the tutors are really good, too."
Having a personal, relaxed space where Māori and Pacific students can be around others who they can relate to makes speaking up more comfortable than in a traditional lecture hall, Puna adds. It's important to have an environment in which your cultural identity and practice is understood.
There are also plenty of opportunities to access one-on-one time with Māori and Pacific mentors who are on hand to share their stories, as well as make connections with other students to accompany you on your own journey. 
"The opportunities and resources here at the University of Auckland are really good. Ask for help, use everything that they offer you. Uni is such a good way of learning more about yourself and what you can do."
And, as for the rest of Auckland, try and get to Mission Bay or Muriwai Beach out on the West Coast of Auckland. "Gisborne is all beaches, and I miss the beach so much. That's what I like to do when I have the time away from uni - just hang out on the beach."
Meet more of our students
Our blog, The Inside Word, is written by our first-year students who share everything you want to know about studying at the University of Auckland.