Summer Start: New in 2021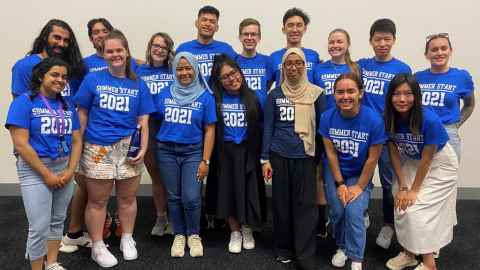 January 2021 saw the launch of Summer Start. This new programme supports the enrolment of school leavers by allowing them, for the first time, to access Summer School courses.
COVID-19 impacted heavily on New Zealand secondary school students, both domestic and international, and in many cases disrupted their study plans for 2021. 
Prompted by feedback from our secondary school partners, education transition specialists at the University made a case to allow secondary school leavers to enrol in one summer school course from a selected list of 22. To support them, a programme was created that would offer academic, pastoral, and social support. That support aimed to maximise student achievement and ensure that this first-time cohort would be best positioned to succeed in the shorter, fast-moving environment of Summer School. 
The benefits of Summer Start include additional preparation for entry to the University and the acquisition of increased academic, learning, and self-management skills. Additionally, an early assimilation into the university environment boosts students' confidence. 
In total, 307 students enrolled in Summer Start. Sixty of them took up offers for fully funded university accommodation (domestic students) or partially subsidised university accommodation (international students). 
After being welcomed onto campus with a pōwhiri and orientation event, each student was assigned to a group led by one of fifteen Summer Start Leaders. These leaders were current students in the latter period of their degrees. They did a great job running study groups, group outings, and inter-group sports competitions. The participants gained academic skills as well as forging long-lasting and confidence-boosting connections. A common-room style space (featuring arcade machines, foosball table, and snacks) provided a home-base on campus. 
In addition, our Summer Start Student Experience Adviser, Eleanor Almeida, organised on- and off-campus events to give students a break from study, and to highlight the attractions of Tamaki Makaurau. These included a trip to Waiheke Island, sailing on a waka hourua vessel, guided walk-the-whenua hiking trips, and more. Participants also received free University gym memberships for the duration of the programme, as well as Auckland Transport HOP Cards pre-loaded with $200 for use on local buses, trains, and ferries. 
Academic support included special tutorials run by academic staff, and drop-in centres operated by current students. Participants were offered support with assignments and exam preparation. Our Summer Start Student Support Adviser, Mei Ye, also tracked grades for in-course work in order to offer targeted support for individuals and course cohorts. 
Importantly, all academic and pastoral support offered through Summer Start was drawn from existing University resources. And so participants will be able to access the same level of support when they start their mainstream degree programmes. 
Summer Start grades were still being returned at the time of writing, but early indications are very encouraging. Many courses reported a 100% pass rate. One in particular – ENGSCI111 (Engineering – Introduction to Mathematical Modelling) returned a fantastic result, with 20 of the 22 students gaining an A Grade. An important note about Summer Start grades: passes can count towards the students' degree programme, but courses failed in Summer Start will not appear on degree transcripts. This greatly reduces potentially negative impacts arising from the programme's intensity. 
The University is currently reviewing feedback about the programme from staff and students, and a decision on whether Summer Start will be repeated in the future is expected shortly.
In the meantime, feel free to discover more about our Summer Start programme.
From Summer Start to future smart - our careers service work with school leavers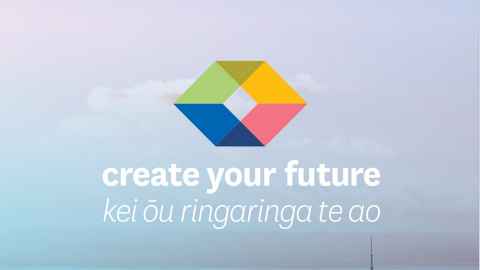 Our Career Development and Employability Services (CDES) team has been busy gearing up for the start of the semester. This year the University introduced the new Summer Start programme, designed for school leavers who want to earn credits towards their degree. Participants were also able to grab a taste of campus life and get started on their academic journey. 
CDES Manager Catherine Stephens and Senior Career Development Consultant Sarah Moyne jumped on board to deliver several interactive sessions as part of the programme. These fun sessions encouraged school leavers to consider how their study can link to future work options and why it's never too early to think about your career. Catherine Stephens says, "It's okay not to know where you want to take your degree – but it's important to start thinking about it as early as possible, so you have plenty of time to start building your connections and your confidence." 
Not stopping there, Catherine and our Māori and Pacific Employability Lead, Pepe Afeaki, delivered sessions at the UniBound programme for Pacific school leavers. Through UniBound, students study PACIFIC 100 and get an introduction to life as a university student. Our sessions focused on introducing students to our services and helping them make informed choices when it comes to study and work. 
In addition to our Career Kickstart programme for Science and Arts first years, our team have also created "train the trainer" career sessions. These are for Resident Advisers in first-year halls of residence. We also offer new career programmes for specific groups around the University, such as high-performing athletes, and a workplace insights programme for international students. 
Who are we? 
At CDES, we support students to find their career direction and navigate the world of work. 
We assist University of Auckland students (as well as graduates up to three years after graduation) with their career development through: 
Face to face appointments 
Career workshops with career consultants and guest employers 
CV and cover letter checks 
Large scale career expos 
Recruitment events 
An online career management system, MyCDES 
Much more!
To find out more about what we can do for your students, please explore the CDES homepage.