Identifying their disabilities has been positive for Cody and Emma.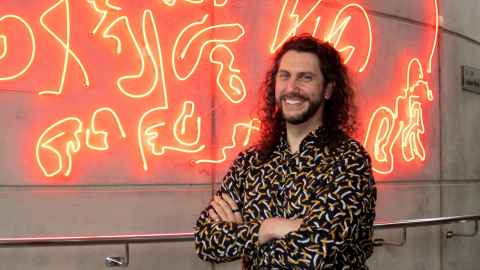 An academic who always tells students about his dyslexia at the beginning of a class finds it breaks the ice and they are more likely to talk about their own learning challenges.
This means Cody Mankelow, a professional teaching fellow in Civil and Environmental Engineering, is able to ensure his students get the support they need early.
"Also, being honest and open helps. If I make an error, students notice. Even a small error tends to bother students. I find being honest reduces that frustration. I also think it helps humanise staff," Cody says.
Despite the positive experiences of staff who identify as having disabilities, only four percent do so.
Medical conditions are the most common, followed by mental health, then specific learning disorders.
This is likely to be a significant under-representation, as 24 percent of all New Zealanders identify as having a disability.
Cody has joined the recently formed Staff with Disabilities and Impairments Network.
The value of the Staff with Disabilities and Impairments Network is the community it provides, he says.
"Like any other community, it provides support, a place to develop shared values, and better understand oneself through those in the community's shared experiences," Cody says.
"Living with a disability can be isolating and can lead you to question your worth. Think of it like imposter syndrome, but with a touch of empirical evidence that you are different.
"Being with others who face similar challenges as myself reduces my self-doubt and helps me better understand the challenges I face."
Emma Cooper-Williams, who until recently worked part-time in the Contact Centre and studies, found some areas weren't accessible for her wheelchair. By having an honest conversation with her manager, Emma was able to ask for what she needed.
"I feel as though my position in the workplace is no less valued than somebody else's, and that I can contribute to the team environment to the best of my ability," she says.
The University supports staff with disabilities by providing appropriate workplace adjustments, such as flexible working arrangements, provision of assistive technology, changes to job design, and so on.
Now the Equity Office is moving to form a network of staff with lived experience of disability.
The network would aim to connect staff, promote inclusion and offer strategic advice to improve the workplace for staff with a disability.
Identifying a disability can be a difficult decision.
"Many people are fearful of being denied opportunities, losing privacy, being treated differently, or provoking unnecessary concern. They may fear inaccurate assumptions will be made about them," says staff equity manager Cathie Walsh.
However, some people choose to identify their disability, knowing there are adjustments and support available to enable them to undertake the tasks associated with work or study, Cathie says.
"People may identify as having a disability even though they don't require any specific adjustments at the time.
"It may avoid misunderstandings, create an opportunity for educating others or alert managers about the possibility of future requirements or reasonable accommodations."
If you are interested in participating in such a network and/or have ideas on how this could best work for you, please email Shasha Ali at staffdiversityequityandinclusion@auckland.ac.nz Your details will be kept confidential.