How to register with the University
Creating your identity record
1. Go to the University Single Sign-On page and click on Register for a new account
2. Select your preferred registration option
Note: If you have a RealMe verified identity we recommend using this registration option. Click here for further instructions.
3. If you select 'I will add my details in myself' option you will be redirected to our registration page
Complete all of the fields in the registration page. Your password must be between 8 and 50 characters in length, for more information, visit Choosing a password.
Read and accept the terms and conditions.
Click on Register.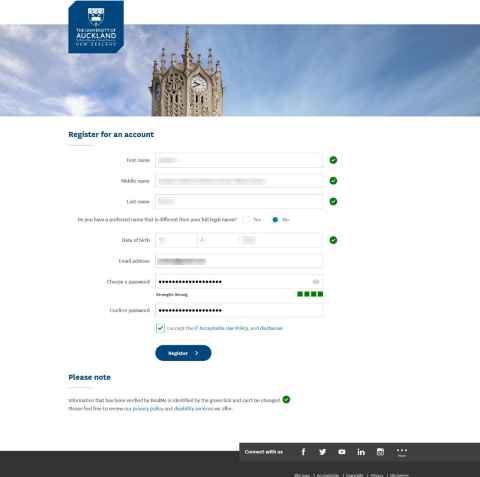 Provide your identity details
The next steps are to update your profile with your personal details so that we can identify you as being a unique person in our system.
1.   Click on the Update name button and provide the information below as applicable:
A preferred name if you have not already provided one

Any previous names you may have had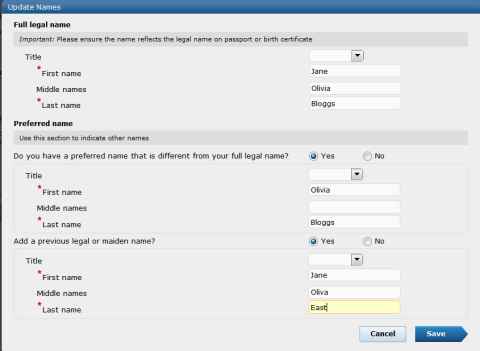 2.   When you click on save in the update name page you may be asked to confirm that the name provided is your legal name. Select Yes to confirm or Cancel to go back and correct the information.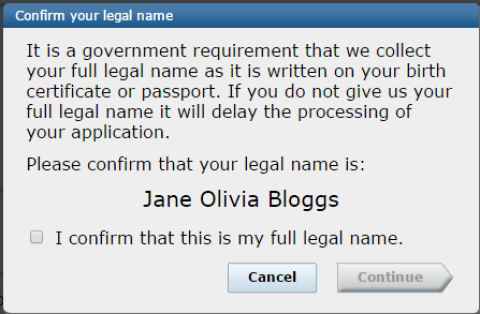 3.   Click on Update demographics and provide your:
Gender
Country of birth

Country of citizenship (multiple responses are allowed)
Residency status (if you are not a New Zealand or Australian citizen)
Ethnicity (multiple responses are allowed)
Iwi affiliation if you identify as NZ Maori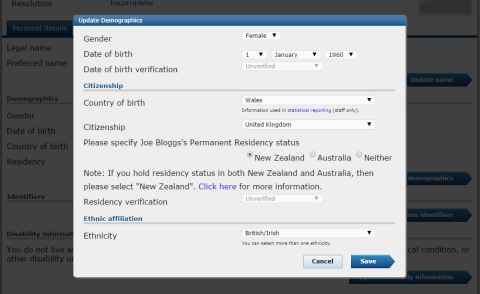 4.   Once you have completed the fields on the Personal Details page you should also provide us with additional information such as phone numbers, addresses and email addresses.
Note: We recommend that during the registration process you provide, at a minimum, a mobile phone number and mailing address as this is required information for many of our services. e.g. Honorary employment contracts and engagement of independent contractors
Depending on the relationship you establish with the University you may be required to provide additional information at a later stage such as emergency contact information.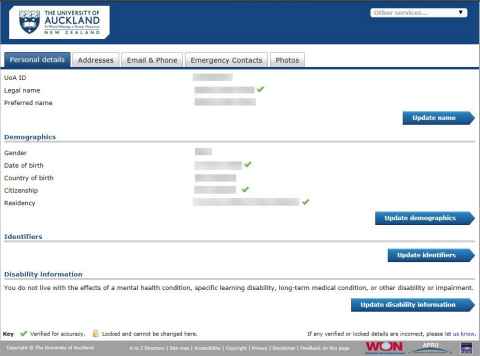 If you have provided us with your legal name and date of birth a formal identity record will be established and an email will be sent to you confirming your new username.
Finished registering?
Once you have provided all of the information that you want to, simply close the browser window. The information you have provided will be checked and your username will be assigned. This should happen within 1 to 2 working days.
If you want to provide more information later or update what you have already added you can:
Click on the 'your identity details' link at the top of the page.
Sign in using the email address you provided at registration and the password that you created.
Need help?
If you need further assistance with the self-registration process please contact us.