Inside this issue of UniNews: Dr Angus Campbell thinking outside the square for design; Dr Jennifer Miles-Chan and the Human Nutrition Unit; Dr Tim Angeli-Gordon on becoming a Pākehā ally; Plus 'Good to Know' and staff 'In the News'.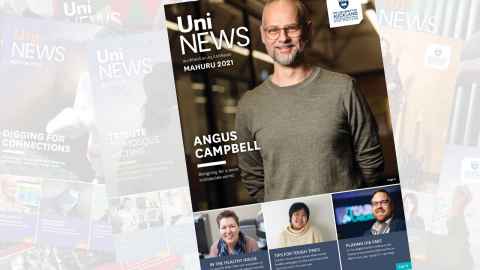 Cover story
The new head of the University of Auckland's Design Programme says we need a broader understanding of what design is and we may find it in surprising places. 

Features
The director of the University's Human Nutrition Unit oversees important research on metabolism, obesity and markers for type 2 diabetes.

Opinion: There's a role for non-Māori to become 'Pākehā allies' in supporting te ao Māori, te reo Māori and mātauranga Māori, writes Tim Angeli-Gordon.

The Archive of Māori and Pacific Sound (AMPS) 50th Anniversary Podcast is a series of conversations with five significant anthropologists connected to the University of Auckland, in celebration of AMPS' 50th anniversary in 2020.
Mental Health Awareness Week is later this month. But student Yvonne Ruan says every day is a good day to be aware of your mental health. She offers her story and tips.
All these items on PDF only
In the News (Pg 2 of PDF)
Dr Jason Turuwhenua
Professor Alistair Woodward
Associate Professor Mike Lee 
Associate Professor Siouxsie Wiles 

Olympians do the University proud Pg 3
(Full story: auckland.ac.nz/UOA-Olympians)
Good to Know stories
Professor Frédérique Vanholsbeeck and the Science grant Pg 4
Professor Trecia Wouldes and gender equity workshops Pg 4
6 Star building set to sparkle Full story: auckland.ac.nz/6-green-star-building-201 Pg 5 
$9.8m to help halt flu and rsv spread (Full stories: auckland.ac.nz/ShiversV-study and auckland.ac.nz/vaccine-tool) Pg 5

Toi me te Ahurea Art and Culture
Into the digital gardens of ARS Pg 10
Sweetest club on campus? Pg 10

Books pg 11
AUP New Poets 8, Edited by Anna Jackson, Auckland University Press
Activism, Feminism, Politics and Parliament By Margaret Wilson, Bridget Williams Books
Poe for Your Problems: Uncommon Advice from History's Least Likely Self-Help Guru, Catherine Baab-Muguira, Hachette
GOT A STORY IDEA? GET IT TO US
Email us: uninews@auckland.ac.nz
Copy deadline is the 15th of the month prior to the month of publication.
UniNews editor
Denise Montgomery
DDI: +64 9 923 6061 In the office Tuesday-Thursday 
Mobile: 027 224 0181 Monday to Friday