Inside this issue of UniNews: Brendon Dunphy, Andrew Chen, Papaarangi Reid, CBR and Manaaki Manawa, spring graduation. Plus 'In the News' and Good to Know.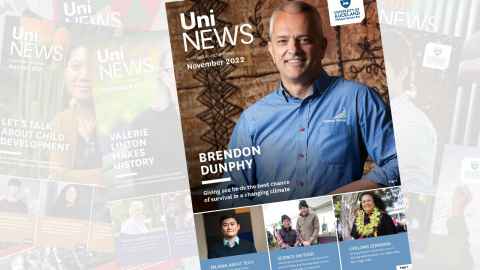 Cover story
Aotearoa New Zealand's seabirds aren't well-known like the kākāpō. They often come in at night and then head off out over the horizon. Dr Brendon Dunphy says they deserve our protection. 

Features
From 2020, Dr Andrew Chen was called on by many to explain the Covid-19 app. It helped that he had a genuine interest in its evolution.
Staff and students from the Centre for Brain Research and Manaaki Manawa connected with the people of Tairāwhiti in October.
Māramatanga
Opinion: The state of Māori health is an outcome of deliberate policies to break down Māori people, lands, culture and relationships, writes Professor Papaarangi Reid.
All these items on interactive PDF 
In the News (pg 2 of PDF)
Dr Ruth Monk
Dr Annie West
Dr William Cheung
Associate Professor Jan Eldridge
Associate Professor Linda Tyler
Professor Kathy Campbell

'Good to Know' stories
Spring graduation: lifetime learning pg 3
QS World University Rankings in Sustainability pg 4
Dean of CAI Professor Nuala Gregory
Professor Frank Bloomfield VC Research pg 4
Mike Dragunow: Gluckman medal pg 4

Arts and Culture
Neal Curtis's comics lab idea pg 10
Spectacle art exhibition pg 10
Macbeth pg 10
Crystal Arts winner Romola Lang pg 10
 
BOOKS
Mountains, Volcanoes, Coasts and Caves: Origins of Aotearoa New Zealand's Natural Wonders 
Bruce Hayward, photos Alastair Jamieson and Lloyd Homer, AUP, $70, out 10 November

More Zeros and Ones: Digital Technology, Maintenance and
Equity in Aotearoa New Zealand
Eds Anna Pendergast, Kelly Pendergast,
Bridget Williams Books, $18, e-book $5
The Persimmon Journal: The Art of Getting Older Through Lockdown, Loss and Release
Juliet Batten, Ishtar Books, $42

Monetary Redress for Abuse in State Care
Stephen Winter, Cambridge University Press, $170, released mid-November

If you have a book to tell people about, email: uninews@auckland.ac.nz