University improves international impact ranking
The University of Auckland has risen in the 2022 Times Higher Education (THE) University Impact Rankings – moving to sixth globally from ninth equal in 2021.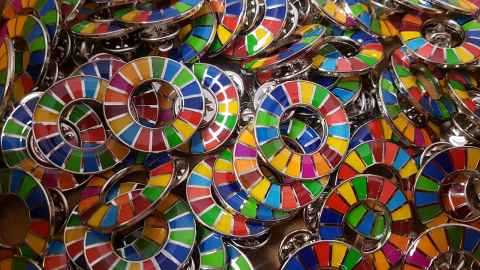 The rankings measure how universities worldwide are performing against the United Nations' Sustainable Development Goals (SDGs). The SDGs came into force in 2016 and set a 15-year agenda for all countries to end poverty, fight inequalities and build peaceful, just and sustainable societies.
Retaining a position in the top ten reaffirms the University of Auckland's strong commitment to sustainability and making a positive social impact through its partnerships, research, teaching, operations, community engagement and knowledge transfer.
This year, the University of Auckland placed in the world's top ten percent in all 17 SDGs of the 1,406 participating universities with three SDGs in the top one percent and a further ten in the top five percent. Top ten scores were achieved in SDG2 Zero Hunger (4th); SDG3 Good Health and Well-being (10th); SDG5 Gender Equality (10th); and SDG15 Life on Land (4th).

The University's results
The 2022 Impact Rankings is the fourth edition and the overall ranking includes 1,406 universities from 106 countries/regions. The University of Auckland submitted evidence on all 17 Sustainable Development Goals (SDGs).
More comprehensive results are available on the THE website.
| Sustainable Development Goal | Our ranking |
| --- | --- |
| Overall ranking for impact | 6th |
| SDG 1: No poverty | 24th |
| SDG 2: Zero hunger | 4th |
| SDG 3: Good health and wellbeing | 10th |
| SDG 4: Quality education | 68th = |
| SDG 5: Gender equality | 10th |
| SDG 6: Clean water and sanitation | 43rd |
| SDG 7: Affordable and clean energy | 25th |
| SDG 8: Decent work and economic growth | 25th = |
| SDG 9: Industry, innovation and infrastructure | 24th = |
| SDG 10: Reduced inequalities | 11th |
| SDG 11: Sustainable cities and communities | 13th = |
| SDG 12: Responsible consumption and production | 31st |
| SDG 13: Climate action | 43rd = |
| SDG 14: Life below water | 12th |
| SDG 15: Life on land | 4th |
| SDG 16: Peace, justice and strong institutions | 21st = |
| SDG 17: Partnerships for the goals | 44th = |
Case studies
The University of Auckland released a series of videos showcasing a range of contributions our people are making towards the SDGs.
Major local and global partnerships
Contributors
A sincere thanks to all of those who contributed to our submission with stories, expertise, support and encouragement. 
Impact Ranking Submission Reference Group
Gillian Lewis (Chair), Russell Baillie, María Baldoni, Brett Chapman-Richards, Amy Malcolm, Pamela Moss, Jingwen Mu, Stephen Murrell
SDG Report Group
Nilo Atefi, María Baldoni, Brett Chapman-Richards, Ayden Fuller, Kevin Kang, Ashley Marshall, Denise Montgomery, Pamela Moss, Jingwen Mu, Weiwei Wang
Future contributions
As the Impact Rankings submission will be an annual exercise, we welcome staff contributions to its preparation.
For more information about how staff can contribute and the data mining work we are undertaking to better represent our research contributions to the SDGs, please contact the Planning and Information Office.