It was an emotional moment for Gia Punjabi when she discovered the effects of helping a fellow human in need.
While on exchange at the University of California, she volunteered at the Santa Cruz Homeless Garden Project alongside people experiencing homelessness.
The group provides transitional employment for people getting back on their feet and teaches them valuable skills.
Gia, a University of Auckland alumna, says it wasn't obvious who was a paid employee and who was a volunteer. But when one of her co-workers opened up to her, everything changed.
"The true impact hit me one afternoon, while a lady I often worked with shared her tragic story of how she became homeless. I had no idea about her situation, and frankly speaking, had assumed that she was a volunteer just like me. This moment really opened my eyes to the fact that people experiencing homelessness are first and foremost just people."
Since then, Gia's passion for volunteering has continued to grow. She fosters rescue puppies, helps out at the San Francisco Chamber of Commerce and mentors final-year high school students on their journey to university.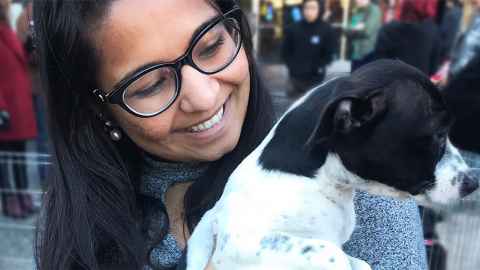 Gia also serves as the University's Volunteer Alumni Coordinator for San Francisco. The University community is especially close to her heart.

"I enjoy giving back to the University of Auckland so I can pay forward the amazing learning experiences I had while spending my time as a student," she says.

Gia encourages alumni to immerse themselves in causes they love. She says volunteering is important for creating cycles of action and self-reflection.

"Spend some time finding a cause that matters to you, and make a promise to yourself to commit your time volunteering to that cause".

"Volunteering deepens your understanding of yourself because it makes you aware of the way you judge the world and the people around you".