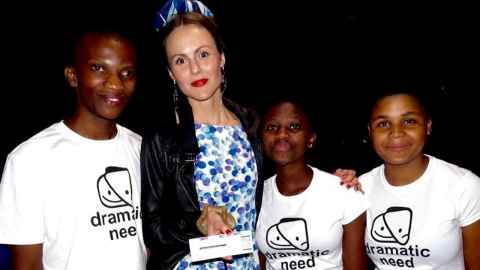 Prior to founding Dramatic Need in 2007, Amber Sainsbury trained at the Webber Douglas (now Central) School of Speech and Drama in London and worked as an actress in film and television. 
Following a period filming in South Africa, during which she recognised the potential of the creative arts as a tool for conflict resolution and trauma recovery in young people, Amber made the decision to leave acting and establish Dramatic Need, her own creative arts charity. Its aim is to help vulnerable children in Africa to build hope and self-belief in the face of conflict, trauma and hardship.
"When I first set up Dramatic Need I spent months writing to over 500 lower socio-economic schools in Africa. Three months later I had received only one reply. In the end I hired a 'baakie' (pick-up truck) and drove almost the length and breadth of South Africa going from school to school meeting people. It's the same with fundraising. You have to get in a room with people. We can digitize the world all we want, but I've learnt that nothing really happens without that human connection."
Since founding the charity she has taught drama and arts workshops across Africa, contributed to the Commonwealth Ministers Reference Book and British Arts Council's Creative Partnerships Conferences on the subject of arts in the Developing World and has been voted one of the UK's most 'Inspiring Women' by British Vogue.
In November 2017 Amber will be honoured at the Moves Power Women Leadership Gala in New York. Dramatic Need is a registered charity in the United Kingdom, South Africa and shortly, the USA and operates two permanent community art centres in South Africa with a third and fourth due to be opened in South Africa and Rwanda respectively in 2018. To date she has raised over a million pounds for the charity.
Along with overseeing the charity's strategy and development and daily operations, Amber has developed the concept of The Children's Monologues, adapting raw testimony of the children's Dramatic Need works for the stage using professional playwrights. The resulting monologues are performed simultaneously by professional actors internationally and the children themselves in Africa. The monologues have been performed all over the world including in Australia, benefiting indigenous youth, and at the Oregon Shakespeare Festival in aid of their Daedalus Project combating HIV in the United States.
Amber has produced two major performances of the Monologues as fundraisers for Dramatic Need, at London's Royal Court and Old Vic Theatres, both directed by Oscar-winning director Danny Boyle. An upcoming production will take place this November at Carnegie Hall, New York, also directed by Boyle, and simultaneously at Johannesburg's Market Theatre starring an all-female, all-African cast. Hollywood A listers lending their support to the productions include Nicole Kidman, Benedict Cumberbatch, Tom Hiddleston, Susan Sarandon and Ewan McGregor.
Amber graduated from the University of Auckland in 2012 with a double major in History and Italian language ten days before the birth of her first child as well as receiving the Senior Scholar Award that year for the highest marks across the Faculty of Arts.
"I had amazing lecturers and tutors, all of whom showed endless patience and flexibility while at the same time pushing me academically, so there was never the option of not doing your absolute best. I did ten papers in my final year and was also working and heavily pregnant. I remember waddling in one day and asking one of my lecturers if I could have an extension on an essay as I was overwhelmed. She said 'Of course you can, absolutely no problem. Hand it in whenever you can.' I thanked her and then as I was leaving she said 'Just make sure it's good.'
That was my experience of the University generally: supportive but rigorous. I've found that same attitude of 'do whatever you can to make it work, but then make sure you do it well' incredibly helpful in my career."