Ane Tonga is the first Curator of Pacific Art at Auckland Art Gallery Toi o Tāmaki. She has generated new research, writing and curatorial projects on contemporary art at institutions throughout the country. She was previously Lead Exhibitions Curator at Rotorua Museum Te Whare Taonga o Te Arawa and prior to that was Assistant Curator at Museum of New Zealand Te Papa Tongarewa.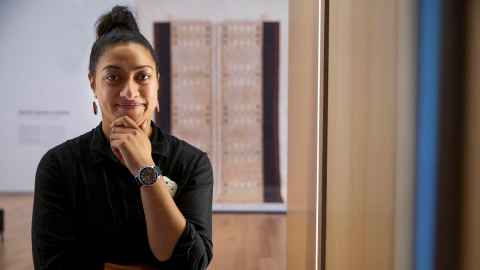 In her second year at Elam School of Fine Arts in 2008, Ane Tonga was chosen to be a Tuākana mentor helping and connecting younger Pacific and Māori art students.
"I came through the tuākana programme as a First-Year who was struggling with the transition into art school," she says. "The very next year, I was asked to become a tuākana mentor which was a key turning point and decision that kept me in art school."
Tuākana was also the gateway to Ane's current career. She co-curated her first exhibition The Conch is Calling at the University's George Fraser Gallery and former Artstation in Ponsonby, showcasing the art of Māori and Pacific students.
"Becoming a tuākana provided an opportunity to learn about indigenous frameworks that continue to play a role in many facets of my life," she says.
Ane's family come from the villages of Vaini and Kolofo'ou, in the Kingdom of Tonga. In the 1970s her parents came to New Zealand to give their children better opportunities. Ane, was born and raised in Mt Wellington. She went to Epsom Girls' Grammar and then to Elam in 2007.
"Part of my journey into the arts has always included overcoming adversity. In high school, my first photography teacher saw me as a troublemaker which, if you knew my parents, you'd know that I never had that option.
"The teacher punished me by ignoring any requests for help. Luckily my sister was at university and got her art school friends to teach me how to use my camera – the rest was history."
"My family have been the biggest influence in my life," she adds. "My work ethic and drive has come from them."

Art has always been a part of Ane's life too. Her earliest memories of art were experienced through her grandmother who would get Ane and her older sister Nina, who is curator of Contemporary Art at Te Papa, to bring out her collection of ngatu (decorated bark cloth) every summer and repaint parts of the patterning using a concoction of different materials.
Ane's art is now represented in public and private collections including at the Christchurch Art Gallery Te Puna Waiwhetū and the University of Auckland.
An exhibition of her photos of nifo koula – gold-plated teeth – at the Gus Fisher Gallery in 2014 drew acclaim.
Ane completed her Fine Arts Honours degree in 2010 with papers in critical thinking, Tongan language and contemporary Pacific Art.
Her career quickly took off. She became the Blumhardt Curatorial Intern at the Dowse Art Museum in Wellington and then assistant curator of contemporary art at Te Papa Tongarewa, before completing a postgraduate diploma in museums and cultural heritage. A move to Rotorua to be the lead exhibitions curator at Te Whare Taonga o Te Arawa came to a halt when the Rotorua Museum building was closed for seismic strengthening.
With the help of a Kupe Leadership Scholarship in 2019, she recently completed her MA Thesis on Pacific curatorial practice in New Zealand between the 1960s and 2019.
She was appointed the inaugural curator of Pacific Art at Auckland Art Gallery in March 2020. "The position reflects the gallery's commitment to Pacific communities," she says. "Curatorial roles are rare, particularly those related to contemporary Pacific art."
Ane is already working towards new exhibition projects that will showcase the work of Pacific artists who are at the forefront of contemporary art in New Zealand.

Looking forward, Ane wants to "create a trajectory for other indigenous and Pacific people through both my work and mentoring, the latter of which has been vital to my career".