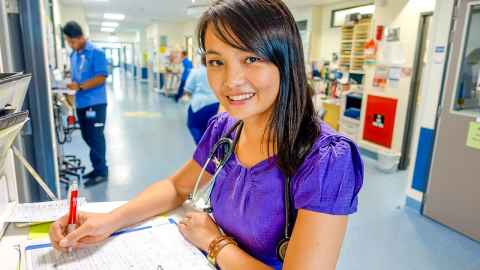 Growing up in a family where business was usually the main topic of conversation around the dinner table, a subject Angela Lim very much enjoyed, her decision to pursue a career in medicine came as a surprise; but not one she has regretted.Living in Malaysia but attending school in Singapore, where educational standards were higher, involved a daily two and half hour bus commute each way across the border; a routine she vividly recalls was particularly punishing."I would wake up at 4am, have breakfast then catch the bus to school for a 7am start. In the evening it would be a late dinner after I arrived home, homework and often extra class on the weekends. It was really tough and even to this day I don't feel I had much of a childhood."
Immigrating to New Zealand with her family at the age of 14 and enrolling at Howick College in Year 10 was something of a culture shock, though Angela says the rigors and discipline of her schooling in Singapore had instilled in her a strong work ethic. "Things were a lot more relaxed which was a big change. There wasn't the same intense focus on study and grades as I had been used to; it was a lot more social and much more about being part of a group."
First completing a Bachelor of Science degree followed by a Bachelor of Medicine and a Bachelor of Surgery and becoming the first doctor in her extended family, Angela is currently based at Auckland's Starship Hospital where she is specialising in paediatrics.
"I still remember one of the first exams I sat at Medical School where the average was an A. I got a B. I always knew I wasn't book smart. I had to work hard for my grades."
The experience provided an early life lesson about determining your future.
"My biggest learning is demystifying what's possible. Credential inflation puts mental barriers on what we believe we are capable or allowed to do. I have found that the biggest growth and development comes from just giving things a go without preconceived expectations and learning through the process."
Developing a strong interest in inequality and governance has led to appointments on numerous boards including the Ministry of Youth Development Partnership Fund, National Child Health Information Platform Programme Governance Group and the youth engagement collaborative Inspiring Stories.
"Yuval Hararai the author of Sapiens and Homodeus had a big influence on my thinking. He looks at the next stage of how society is going to restructure itself and examines the fundamental question: Where do we go from here? I want to be someone who contributes to creating that future."
A finalist for the 2017 Young New Zealander of the Year award, Angela has developed her own definition of what it takes to be a successful leader.
"I have found the people I admire the most are leaders who have great interpersonal skills and are able to bring calm to chaos. People who are able to provide clarity to complex problems, know how to influence people, can put aside their competing agendas and motivate others to work as a team towards a common goal; while also having fun."