Edith Amituanai is a contemporary artist who is acclaimed for photographing her local Samoan and family community in Auckland where she was born. Her works have been exhibited here and overseas and are in public and private collections. In 2019 she became a member of the New Zealand Order of Merit for her services to community and photography.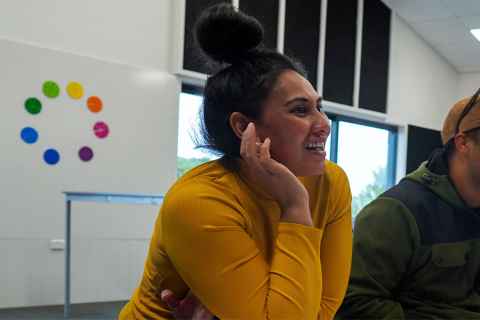 Edith Amituanai has two pieces of advice for young artists. One is: "What you find interesting is right under your nose and it deserves inspection. Access the global through the local."
The second is: "Play the long game. Stay with it, don't give up too soon."
Look at Edith's stellar career and it is clear she has followed her own advice ever since she picked up a camera and began training her lens on stories in her home communities. Her images of kids walking home from school at the end of her driveway in West Auckland: of uniquely Pacific Island living rooms; and of her parents whilst preparing for her wedding reveal a world Edith says she is "privileged to see".
And because she does, we 'the viewer' get a very special glimpse into New Zealand's Pacific Island community. A glimpse that has earned Edith considerable praise.
In the catalogue for a 16-year survey of Edith Amituanuai's work, Double Take, at Victoria University's Adam Art Gallery last year, photographer Haruhiko Saemshima describes her "as a village photographer.
"Her images are made primarily for the eyes and benefit of her 'people'". And she acts as a "catalyst bringing art into communities and communities into art".
The director of the Adam Art Gallery, Christina Barton, on learning Edith had been awarded a MNZM, said the photographer is uniquely contributing to the wellbeing of her community "by using her camera as a tool of empowerment and celebration".
Edith is a first generation New Zealander of Samoan descent.
"As a kid of immigrant parents the importance of education was instilled in me."
Growing up, she was interested in art and by a process of elimination, photography became her chosen medium. She completed a Bachelor of Design (majoring in photography) in 2005 and then a Master of Fine Arts from Elam in 2009. In 2007 she won the inaugural Marti Friedlander Photography award and in 2008 was the first Walters prize nominee of Pacific descent.
Edith has since exhibited extensively in galleries and museums across Aotearoa and internationally in Australia, Austria, Taiwan, Germany and France. In 2014 she was the Taipei Artist Village resident and she has travelled as far as Alaska tracing Samoan communities in diaspora and examining migratory patterns. This includes following expatriate NZ Samoan rugby players to Montpellier, France and to Parma, Northern Italy.
Edith's photography has always focused on community and what "home" means. In 2009 her exhibition La Fine del Mondo broke new ground depicting refugees from Myanmar resettling in Auckland.
More recently Edith has used her art as a vehicle to engage with young people. In 2017 she did a six-week residency at Flaxmere's Kimi Ora Community School, near Hastings, working with children who mostly didn't have access to a camera at home. The result is Keep on Kimi Ora – a powerful and nationally significant exhibition featuring images by Edith and many of the local children.
Edith is on the board of Ranui Action Project, an NGO and community development organization. She is the former Manager for the local rugby league team, the Waitemata Seagulls. She was also a volunteer with the Auckland Migrant Centre where she has worked with a number of refugee families.
And she has just finished working with students at Waitakere College as part of the Ministry of Education Creatives in Schools project. "I enjoyed it so much," she says, "I hope I can work with another school again."