PhD Candidate - University of Melbourne.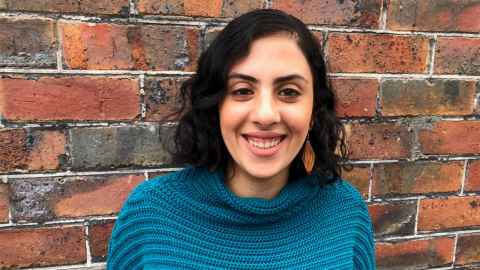 Hala Nasr once told her high school history teacher that she planned to become Secretary-General of the United Nations.
It was an early taste of things to come and the sort of aspiration that is common from second generation migrants who have watched their parents struggle to adapt and provide a good life for their children.
"My parents came to NZ from Egypt. It was tough for them but they connect me to my roots, push me to aspire for excellence and to remain loyal to my political values.
Admitting to not being top of her class or a high achieving student Hala says that initially she wasn't drawn to university.
"I was keen to do a gap year but my Mum encouraged me to do a BA in politics. She always believed I had this bigger place in the world. I started out at university not very clear on where I was going to end up but I quickly discovered I actually enjoyed learning and I began to really engage in my studies."
Opting to study politics and health science with the aim of bettering people's lives through international development roles, the opportunity to work for the UN did in fact materialise.
"I was able to secure a role in Egypt with the United Nations Development Programme (UNDP). Connecting with my ancestral homeland was really important in helping me to build direction and clarity into my career."
But there was also a downside to the visit. Experiencing overt sexual harassment on a daily basis while working in Egypt that ranged from lurid cat calls to inappropriate touching, was to prove a turning point and a catalyst to focus her post grad studies to explore this issue in more detail.
"When I left university my aspiration was to work for the UN, something I had wanted to do since I was in high school. But after my year in Egypt I decided at that juncture in my life it wasn't for me. However, it was while working for the UNDP in Cairo that I discovered my passion for responding to and ending gender-based violence; not something I envisioned when I started out at university." Returning to NZ, Hala focused her Masters in Development Studies on researching and documenting the activist and government responses to sexual harassment in Egypt, where according to a 2013 UN study, 99% of women experienced sexual harassment.
An opportunity to work with the NZ Defence Force to help develop responses and policies to deal with sexual harassment was both unexpected and opportune and provided the ideal platform to create some practical outcomes from the research.
"NZDF recognised they had several issues to deal with including managing their response to instances of sexual assault, developing prevention programmes and providing advice to Command on how to make deployments healthier and safer.
I worked with them for two years to help address many of these issues and I was encouraged by their pro-active stance in seeking to stamp out sexual violence and create a culture of inclusiveness and respect."
Applying for a research role at the University of Melbourne resulted in yet another unexpected opportunity.
"I hadn't planned on doing a PhD, but when I applied for the research role I was offered a scholarship to undertake a doctorate. The offer was too tempting to turn down so here I am embarking on a new phase in my academic journey. To be honest, it's very unexpected. I never thought I would ever end up doing a PhD but at the same time it's a great opportunity to be working in this space particularly with the rise of movements such as #MeToo."
Hala says a big learning for her along the way has been that we spend much of our university years doing the important work of developing our own voice and finding our place in the world but all too often we forget to make space for the voice of others.
"Most of the work I have done has been with survivors of gender-based violence, as well as people with harmful sexual behaviours. Listening in this space can be very challenging, especially when confronted with the unacceptable behaviours and attitudes in the first person. Listening doesn't mean condoning behaviours or attitudes you don't agree with, but it leads to connections being built and windows of opportunity for change. It requires an absolute belief in the transformative potential of humans."