Kate Boylan was named the 2019 NZ Green Building Council Future Thinker of the Year and has previously served on the board of The Now Crowd, a young professionals network for sustainability "intrapreneurs". In addition, she represented NZ at a Young Women Scientists & Engineers symposium in Korea in 2019 and is a passionate advocate for sustainability.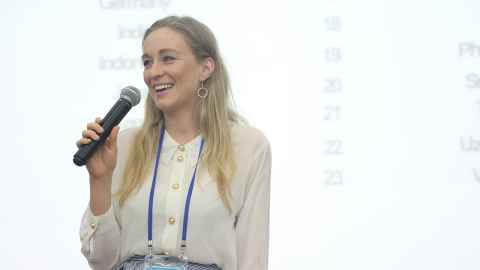 Growing up in the small rural town of Wainui on the outskirts of Auckland had its advantages, says Kate Boylan.
There was nearby Orewa Beach: an active sporting community and physical environment that she could explore and understand, little realising at the time that this connection with the land would later take on a whole new significance.
Kate was sporty, a natural at public speaking, and good at maths and there were any number of post-school options on the table, but a chance conversation with her careers' adviser opened an entirely new pathway.
Pointing out Kate's aptitude for maths and problem-solving, the careers' adviser suggested engineering could be a good fit and just like that, the decision was made. Engineering it would be.
"It certainly appealed to my competitive spirit," says Kate. "I was aware of the gender imbalance when it came to engineering and I wanted to prove to myself that I could do it. I opted for what I thought was the broadest specialisation, mechanical engineering. Females in the class were few and far between."
It was a busy four years that included an exchange to Penn State University in the US for six months.
On graduating she joined WSP (a global engineering consultancy) as a Graduate Mechanical Building Service Engineer. But after 18 months the role didn't align with what Kate was looking for, so she resigned.
"It was a big decision at the time. There was nothing wrong with the job or my employer. I just realised my heart wasn't in it. I was still figuring out my values set but something just didn't seem right."
Casting around, an offer from a family friend who had set up a gardening business in West Auckland offered an ideal interim solution.
The work was physically demanding but Kate says she suddenly found she thrived working in the outdoors rather than being stuck in an office, though she admits longing for a bit of intellectual stimulation to supplement her newly acquired gardening prowess.
"That's when I came up with the idea of starting an Instagram page @kiwigalsaysreduce focusing on environmental and sustainability issues. It became a really good outlet for me and gave me lots to think about while I was on the job."
Putting the word out on LinkedIN about her growing interest in sustainability and wanting something that also aligned with her engineering background resulted in an offer from Tonkin + Taylor, which just happened to be one of the country's leading environmental and engineering consultancies.
"It wasn't long before I was in my own (rather smelly) slice of heaven going through waste undertaking a landfill audit. It was a challenging, yet rewarding experience, taking me back to the roots of my environmental passion - waste reduction. I think minimising waste and 'keep cups' are a 'gateway drug' into sustainability for many people."
Recent roles have included initiating and leading an internal green team within Tonkin + Taylor, the Kākāriki team, being appointed to the board of The Now Crowd, a young professional's network for "intrapreneurs" who are passionate driving about positive, sustainable change within their organisations and in 2019 being named the NZ Green Building Council Future Thinker of the Year.
"I studied Mechanical Engineering at Auckland almost by chance," reflects Kate. "I really didn't have any idea what I was getting myself into but I feel incredibly lucky to have studied such a versatile, engaging and respected degree. Becoming a 'qualified problem solver' has enabled me to achieve flexibility in my career and I wouldn't hesitate to recommend it."