Lucy von Sturmer is the founder of award-winning impact consultancy The Humblebrag. A champion of business as a force for good, Lucy works to support business leaders and brands to take a stand on social, cultural and environmental issues. In addition, Lucy is the initiator of Creatives for Climate, a global network of more than 2000 creatives, activists, policy-makers and "passionate humans" working collaboratively to drive action and awareness on the climate emergency.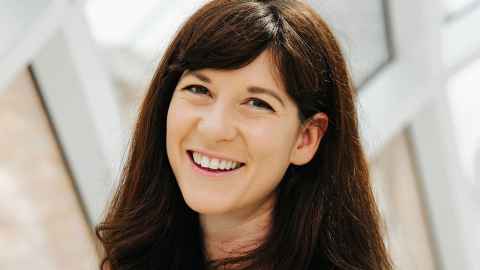 Lucy von Sturmer began her University studies in law, but a switch to the arts — political philosophy, international politics and media studies —provided a wider lens and deeper engagement in learning that ultimately revealed a strong interest in storytelling as a tool for change.
After putting her newly acquired skill sets to the test in various media and marketing roles in Wellington, Lucy went on an OE to Europe. From living in Venice to learning Italian, teaching English in Rome and soaking up everything Italy had to offer, life was perfetto — until it wasn't — when the reality of a visa about to expire and funds running low necessitated a hasty retreat back to NZ.
Her supportive grandfather soon struck her a deal. Spend the rest of her time working at the family-run hat factory Hills Hats and achieve the one thing on her mind: rebuild the bank balance and get back to Europe as quickly as possible.
Landing in Amsterdam eight months later, after a short internship at a global creative production company, Lucy found a dream full-time role with a large global NGO that would secure her visa as a "highly skilled migrant".
Soon she was travelling across Africa and Asia heading up global communications and focused on exploring the potential of technology and innovation to improve governance – applying her now well-honed skills in international relations, digital media and communications.
After gaining proficiency in Dutch, Lucy's integration in The Netherlands led to a new role as Head of Communications at The ZDHC Foundation (Zero Discharge of Hazardous Chemicals) collaborating with over 20 leading brands including Nike, Puma and G-Star to make their supply chains cleaner; a compelling opportunity to mix purpose with passion.
"Dealing with toxic chemicals in the fashion supply chain was a growing issue these brands wanted to eliminate," she says. "The role provided a fascinating insight to the world of corporate social responsibility, driving conversations around sustainability, change and a commitment to acting ethically in a way that proved business could be a force for good."
The experience was formative in helping Lucy launch her own venture into the start-up world called The Humblebrag: Impact Consultancy & Training Academy, helping leaders and brands to use visibility and media impact to build their reputation - and influence. 

"The problem I identified was that many CEOs didn't know how to begin these conversations which was where I saw a huge opportunity to contribute."
More recently, launching Creatives for Climate, a non-profit initiative that invites creatives everywhere to use their platform, power and creativity to amplify awareness of the climate emergency, has been an attempt to harness collective action.
While quietly satisfied with what she's achieved in her first decade since graduating, Lucy remains impatient and somewhat restless about chalking up more runs on her personal scoreboard.
"While for now I have moved back to Aotearoa New Zealand, there's so much more I want to do on the global stage."