Luke Versalko is a filmmaker based in New York. He has produced hundreds of videos, commercials and documentaries for media outlets such as The New York Times, Google, Huffington Post and NBC. He is currently the supervising producer at global media company Whistle and has won numerous awards for his work.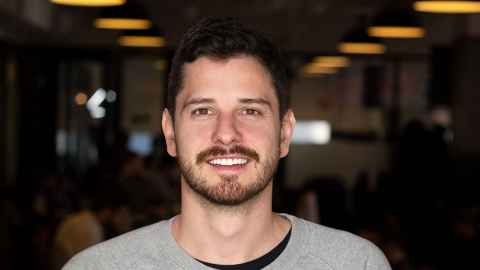 When Luke Versalko finished a conjoint BCom and Master of Film Television and Media Studies at the University of Auckland in 2010, he wasn't sure what he wanted to do.
So he set his sights on "making it" in New York.
The first job he landed there in 2011 was as a production assistant/office manager at Jalbert Productions, who specialised in producing sports video, television and film content.
"I fell in love with it," he says. "I loved seeing how a story about someone or something was brought to life by the production crew."
Ten years on Luke is a US citizen, soon to be married, and he's already had a career he could only have dreamed about growing up in New Zealand.
He has worked for New York media giants such as Hearst and digital publisher Mashable. Now at Whistle, he is making global sports content. In late 2018 he directed an episode of "No Days Off" on tennis star Coco Gauff and he is currently producing a documentary series called "Legacy" that will be on streaming networks in 2021.
"It's a series that follows the children of famous athletes and their journey," he says.
"We just wrapped shooting with Dwyane Wade and his son Zaire Wade, who's likely to follow in his dad's footsteps and be a basketball star. Other characters in the series include Evander Holyfield and his son Evan."
In 2016 Luke followed Haitian musician and musical producer Michael Brun to Haiti to look at how music might change that country. The short documentary he produced, Sound of the Future: Haiti (2017) screened at 11 festivals around the world, winning the Grand Jury Prize at the Sherman Oaks Film Festival in Los Angeles.
"It was amazing to be able to share the story of somebody (Michael) who's so inspirational to so many, and to see something I'd made play in theaters with people I didn't know watching and enjoying."
As a result, Luke looks back at his University study and realises "it really set me up to be able to do whatever I wanted afterwards and that's exactly what I've done".
Working with, meeting and learning about all different kinds of people is what inspires him more than anything.
"My job is often conducting interviews with people who on the surface I have nothing in common with - like a seventeen-year old football player in Tampa, Florida or a Samoan weightlifter who has Samoa's only Olympic medal.
But he has learnt how similar people are. "No matter where you go on the globe, people have such similar goals, motivations and desires. It's one of the most inspiring things seeing how similar we all are, with such different upbringings.
"As cliché as it sounds, I've also found that literally anything is achievable if you want it."
His career is an exemplar of this: He began at the very bottom, getting coffees and waters for people on sets of Red Bull shoots, now he has directed global stars like Amy Adams, Naomi Campbell and Dak Prescott.
Looking to the future Luke wants to stay the course, "continuing to never become comfortable and challenging myself on a daily basis.
"I think the best work is done when you're challenged, therefore I hope to continue to learn and constantly challenge myself."