New Zealand-born Tongan tenor Manase Latu is based in New York. He is currently a member of the Lindemann Young Artist Development Program at the renowned Metropolitan Opera.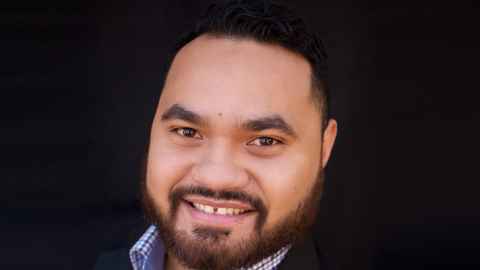 Tongan tenor Manase Latu is patiently waiting out Covid-19 in New York. When the pandemic subsides he will realise his dream of singing in the biggest opera house in the world: the Metropolitan Opera, aka, the Met.
"The Met Opera is unmatched in its prestige and calibre of singers and musical staff. This is truly an opportunity of a lifetime," says Manase, who is in his second year of the Met's highly selective Lindemann Young Artist Development Program.
He is the first singer of Tongan heritage – and one of just two from New Zealand – to gain a place on the programme, which attracts world-class applicants from around the globe.
"Since a young age I was always surrounded by music in church and at family functions. Singing is very much embedded in my culture and my upbringing. Later in high school I joined the choir and my existing love and joy for singing naturally developed into a passion. Upon realising singing as a possible career pathway, this passion evolved into a dream that is now coming true," Manase says.  
Only three years out from graduating with a Bachelor of Music (Honours) in Classical Performance, Manase was talent-spotted by the Met while on a scholarship at London's Royal College of Music.
He has previously been supported as an Emerging Artist with New Zealand Opera as well as the Kiri Te Kanawa Foundation. Dame Kiri is one of his great inspirations alongside Sol3 Mio.
"When I was in high school, I heard Sol3 Mio sing for the first time and I was absolutely lost for words. Having similar backgrounds, it inspired me to go down this path. I thought if they could do it maybe I could too. Since meeting them, they have been incredibly insightful and encouraging with my career thus far." 
Singing to school students has become one of Latu's favourite ways to give back. As part of the New Zealand Opera schools tour in 2018, he performed in an English adaptation of the famous Italian opera L'elisir d'amore at primary and intermediate schools.
"This will always be a special experience for me because for many of these students, it was their first introduction into opera. I felt honoured to represent the artform as well as a responsibility to leave a long-lasting impression. Who knows, the next great singer could've been sitting right in front of me." 
Manase is still in the beginning stages of his journey and is aware of the huge challenges that lie ahead to make it as an international opera singer, and acknowledged his teachers and coaches at the School of Music for preparing him well.
"They gave me the knowledge and skills to make the transition into an international platform very smooth, such as musicianship, language pronunciation and stage presence.
"New Zealand is becoming known for producing amazing opera singers, a large percentage of them being alumnus from Auckland, which really is a testament to the quality of training provided at the University of Auckland.
"And it helps to discover what drives your passion, your 'why'. For me, it is not only my love for the music but the opportunity to represent my family, my country and my motherland on the international platform. Once you've found yours, work hard, sing your heart out and she'll be right."