Marcia Hopa is a teacher, kapa haka leader, business woman, fluent te reo Māori speaker and bilingual presenter on television and radio.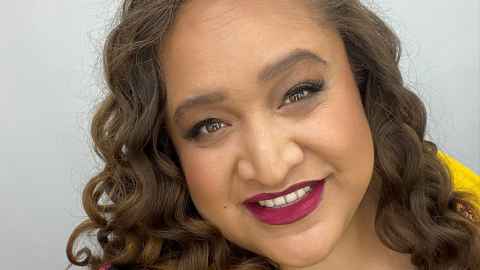 Switch on Māori TV at 8pm on Thursdays and you might see Marcia Hopa on the game show Lucky Dip. 
The bubbly, warm co-host to Luke Bird helps test contestants on their general knowledge and take part in physical games.  
"I love entertainment and being in front of or behind the camera," says Marcia.
Lucky Dip is just one small aspect of her multi-faceted career.   
Marcia (of Ngāpuhi, Waikato and Ngāti Whātua descent) grew up in Whangārei. She is a founding member, senior tutor and kaitataki wahine (female leader) of Hātea Kapa Haka, a whānau and marae-based kapa haka group established by her mother Pauline Hopa in 2000. 
Today Hātea is one of the top kapa haka groups in Northland and renowned for their unique sound. At the Te Matatini Māori performing arts competition in Wellington in 2019, they sang a te reo Māori version of Queen's Bohemian Rhapsody that went viral and was picked up by the legendary band.
Marcia and her group also participated in Waiata Anthems 2019, a te reo Māori album of popular songs from New Zealand artists.
In 2013 Marcia graduated from the University with a Bachelor of Education and became a teacher in her home town.
"My degree set me up and allowed me to teach and mentor rangatahi for many years."
She also spent five years as a navigator for the I Have a Dream Charitable Trust based in Tikipunga and Whangārei.
"The role saw me mentoring and supporting more than 100 students from year three to year seven." 
As well as her teaching and kapa haka skills, Marcia has a digital multi-media qualification and now works full-time in Niwha Creative, a business she co-owns with friend Phoenix Ruka.
"Niwha is a design house of Māori creatives who are passionate about delivering professional graphic design, film and illustration to the world through our lens.
"We pride ourselves on being a Māori business able to understand and connect with clients from all walks of life."
Marcia says Niwha Creative fits with her life philosophy "of giving things a go".