Nawaz Ahmed works on crypto projects with international firms. He's also an angel investor who advises start-ups, and runs a podcast.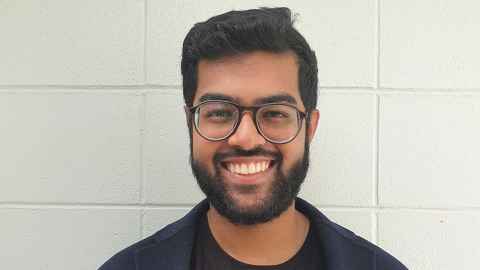 When Nawaz Ahmed was an Auckland schoolboy, he had a successful 'side hustle' selling chocolates to students and then hats to buyers around New Zealand.
They were clues to the kind of career path he'd take, focused on innovation and start-ups. 
Today Nawaz works with international crypto-advisory firms such as Faculty Group and Genesis Block, building and advising on new cryptocurrency projects. He invests in tech start-ups in New Zealand and, more recently, the US, and is a scout for local and offshore venture capital firms. He also hosts a podcast called The Inquisitive VC,  talking to venture capitalists and entrepreneurs around the world.
Nawaz enrolled in a Biomedical Science degree at the University in 2013. But when he discovered the Master of Bioscience Enterprise (MBioEnt) he changed tack. "I thought it was a great opportunity to merge my science background with my business interests."
From there he won an internship to join the technology development team at UniServices – the University's commercialisation company – and was exposed to the world of start-ups and venture capital. 
"The MBioEnt programme really gave me a fundamental understanding of key business and commercialisation aspects," says Nawaz.  "When I interned at UniServices I got to see how tech companies start, what you need to look for when analysing early-stage tech ideas, and how early-stage companies pitch."
A defining moment in Nawaz's career was discovering cryptocurrency. He says he fell down the "crypto rabbit hole" and decided to focus on it.
"I believe it is the future of the internet," he says.
He has been working in crypto for about four years and has a professional goal. "The idea is to become a full-time, early-stage technology venture capitalist, with a specific focus on crypto projects."
One of his challenges has been learning how to network. "Initially I didn't know how to network and was uncomfortable with the idea," he says.
"After putting myself in situations where I had to, I started to get a hang of it. I realised that being good at early-stage tech investing really relies on building authentic relationships and meeting great people doing great things."
Listen to his podcast here.