Founding Director, TOA Architects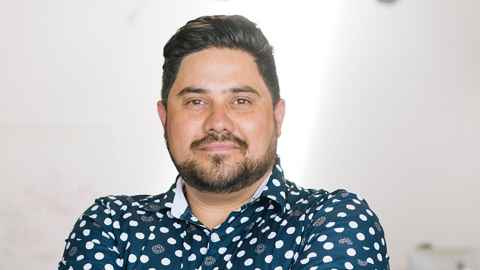 While most pre-schoolers like to draw, not many produce sketch plans to alter the family home at age 4.
For Nicholas Dalton, who would go on to design and build his first house at 17 while still at school, he was just getting started in a profession he knew from a young age would always be his calling.
Having a father who was a draftsman certainly helped.
Nicholas grew up in Mamaku, a historic farming and milling village near Rotorua in a home designed by his father. He recalls how the plan and section were "super-efficient," a 10m x 10m footprint with three split-levels. Spatially it was a design that would make a lasting impression and go on to influence his later work.
Encouraged to explore his design creativity early, it was the perfect environment for a budding architect.
"I remember as a kid going to various building sites and hanging out in Dad's office. He would bring home architectural models and I would have a field day, ripping the roofs off and figuring out how I could redesign them."
Nicholas started out at Victoria University after following his sisters to Wellington but later decided to transfer to Auckland. It was here that his learning really began to "take off."
"I was interested in exploring big ideas and conceptual thinking, particularly in residential design, and the course at Auckland really suited my learning style."
But it was a study tour of Italy and Croatia for a month midway through his studies that really opened his eyes to a whole new world of possibilities.
"It was my first-time visiting Europe and spending time in Rome completely blew my mind. Seeing all its architectural history perfectly preserved and not advancing into the twenty-first century at all made me appreciate the permanence and integrity of European architecture and the way it honours the stories of its history. It's an approach I incorporate into my own work today."
Graduating in 2003 with First Class Honours and receiving the National Award for 'Design Student of the Year' for his project Nga Puna Ora in Bastion Point would mark the start of a career that would eventually lead to Nicholas gathering up some of his former university peers to form TOA Architects.
The firm has designed many award-winning homes and buildings drawing on a range of different perspectives, but one of the most important for Nicholas is context.
"We start with the street name, the history of the area, search through the layers until something clicks. We ask ourselves, what are we doing here? Does this need a shake up and why? An example of this approach is two childcare centres we worked on in Auckland.
In Aotearoa, too often the childcare centres are a converted house or a precast box. If these buildings are what our kids are turning up to each day, they need to be uplifting, fun and exciting."
But designing the Waka Māori for the 2015 Rugby World Cup has probably been the dream commission to date.
"This was a pivotal project, one that was and continues to be close to my heart. It was voted the number one visitor experience (aside from the rugby of course) by the visitors in a survey released by a Melbourne newspaper. I still remember one of my good friends saying to me when we were having lunch in the Waka that he had never been more proud to be Māori. It made me realise what we had managed to pull off."
Acknowledging some of his mentors and those who have influenced his career path, Nicholas says he has been fortunate to have received guidance from several exceptional Māori architectural luminaries.
"The late Rewi Thompson was one of the greatest Māori architects and conceptual thinkers of all time. His house in Kohimarama is arguably the most influential building in Aotearoa; it is our Villa Savoy! Rewi tutored me while I was a student and mentored me in my early practicing years. The late John Scott, another behemoth Māori architect whose work throughout Aotearoa continues to inspire.  Lastly, Dr Charles Walker. Charles tutored me twice in my studies and both times I went on to win prestigious awards."
As for the future, Nicholas admits he has one very ambitious dream project in mind.
"My number one dream is to create our own version of the Tate Modern."
Now that's certainly one design that would be worth waiting for.