Nina Tonga is an art historian who is raising the mana of Pacific art in New Zealand. She holds one of the most influential roles in the art community as the Curator of Contemporary Art at the Museum of New Zealand Te Papa Tongarewa.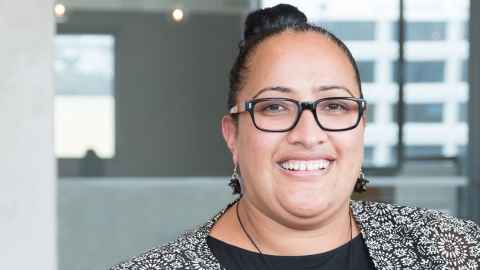 Something profound happened to Nina Tonga during a first-year Art History lecture by Ngarino Ellis at the University in Auckland in the early 2000s.
"She brought up a ngatu (Tongan decorated bark cloth) on the projector. I couldn't believe it, I had taken art history in high school and grew up in Auckland, a Pacific city, and it was the first time I had seen tapa being used in an art history class," Nina recalls.
"I thought, hang on, I have one of those under my bed at home! It completely shifted my perspective. I realised I'd been surrounded by Pacific art all of my life and from then on I wanted to see it celebrated in our galleries and taught as part of our history."  
Nina is from the villages of Vaini and Kolofo'ou in the Kingdom of Tonga and was born and raised in Aotearoa New Zealand. One of eight children, her parents were hardworking and respected members of Auckland's Tongan community, who were targeted and survived the Dawn Raids in the late 1970s.
Against this backdrop, Nina excelled at university and purposefully sought out roles where she could raise the status of Pacific art in mainstream culture.
"Part of what drives me as a curator and art historian is the need to write ourselves into the art history of Aotearoa. We haven't always been seen or recognised outside of our own communities," Nina says.
For several years Nina worked for the University of Auckland's equity office then began teaching in the Art History Department, rising to the rank of Professional Teaching Fellow. She also taught at the Centre of Pacific Studies, coordinating undergraduate courses in Pacific art, music and dance. 
She piloted the Pacific Artist in Residency programme at the University to support and showcase the work of heritage art forms such as Niuean weaving and traditional Tongan lalava or lashing.
"Teaching was definitely one of my dream jobs however I was also curating shows on the side trying to do both," Nina says. "Then an opportunity came up to be a Curator of Pacific Cultures at Te Papa and I realised there was so much more I could do in the curatorial space."
In 2014, Nina left teaching to curate full time as Curator Pacific Cultures, before becoming Te Papa's inaugural Pacific Art Curator. In 2019 she was appointed the Curator of Contemporary Art, the first Pacific person to hold this role at Te Papa.  
Other ground-breaking moments are those that highlight the national impacts of Pacific art and culture, a stand-out being the Pacific Sisters retrospective exhibition Pacific Sisters: Fashion Activists, which brought together the works of scene-setting Pacific and Māori fashion designers, artists, performers and musicians from Auckland in the 1990s.
Another major highlight was leading the curatorial team of To Make Wrong/Right/Now at the second Honolulu Biennial, Hawaiʻi's largest contemporary art exhibition.
"I'm incredibly proud that our curatorial team thought carefully about what it means to curate an international biennial in the Pacific. We thought about how place and specifically Hawai'i and its histories and peoples need to be at the heart of our curatorial thinking. We worked closely with all 47 artists to realise projects that really demonstrated the impact art and artists make. For example, we worked closely with the revered Hawaiian artist Bernice Akamine to realise her vision of a procession of her sculptural installation Kalo from Iolani Palace to Alii'iolani Hale. Her kalo (taro) sculptures were made from donated pōhaku (stones) and leaves made from copies of the Kū'e: The Hui Aloha 'Aina Anti-Annexation Petitions 1897–1898. For the procession, 87 volunteers - including descendants of the petitioners - came to carry the works along this historic route. It is a moment that will inspire and stay with me forever.
"A lot of research goes into curating an exhibition, much more than people realise. For me it's really important to develop trust in your team and especially with your artists. A curator is a Kaitiaki, they take care of the artist and the art with a shared intent."
Nina maintains a strong connection to the University's Art History Department, and is nearing the end of her PhD, supervised by Dr Caroline Vercoe, who she says has been an incredible mentor.
"She inspired me and has really walked alongside me through my studies and my curatorial projects. I hope that my experiences will create new pathways for Pacific people to have careers in art, especially as curators, directors and leaders.
We need more Pacific people in every role in the arts sector."