Find out about asbestos, including what it was used for and why it is considered dangerous.
What is asbestos?
Asbestos is the name given to six minerals that occur naturally in the environment as bundles of fibres that can be separated into thin, durable threads for use in commercial and industrial applications.
These fibres are resistant to heat, fire, and chemicals. Asbestos also does not conduct electricity. Asbestos can be woven. It was known as the 'magic' mineral. For these reasons, asbestos has been used widely in many industries, particularly in building. 

Why is asbestos dangerous?
If products containing asbestos are broken up, drilled, or disturbed, tiny asbestos fibres are released into the air. When asbestos fibres are breathed in, they may get trapped in the lungs and remain there for a long time.
Over time, these fibres can accumulate and cause scarring and inflammation, which can affect breathing and lead to serious health problems.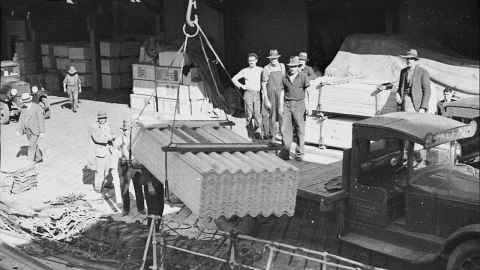 How was asbestos used?
Asbestos is now banned, but it was once a popular building and fire retardant material used for many years.
It can be found in:
Cement sheet cladding
Roofing
Drainage pipes
Backing material for floor tiles and vinyl sheets
Insulation board for thermal protection (e.g. around fire places)
Textured ceilings and sprayed-on wall surfaces
Lagging for insulation around pipes, heaters and hot water cylinders
Vehicle brakes and clutches
Textiles
Spouting and guttering components
Oven gloves
Ironing board pads
Simmer mats for stoves
Fire blankets
Once the health risks of asbestos were known, its use was gradually stopped, and other materials replaced it.
However, products and appliances with asbestos content may still be around, particularly in buildings built before 2000.
Approved code of practice
The Approved Code of Practice sets out WorkSafe New Zealand's (WorkSafe) expectations about how to comply with asbestos health and safety law, including the Health and Safety at Work (Asbestos) Regulations 2016.
The code is comprehensive and covers all aspects of managing asbestos safely in New Zealand workplaces.
Key points
It is divided into different parts. Which parts you need to read will depend on whether you are:
A PCBU with management or control of a workplace that might have asbestos
A PCBU conducting asbestos removal
A PCBU conducting asbestos-related work or
A licensed asbestos assessor.
WorkSafe recommends that people with duties under asbestos law familiarise themselves with all parts of the code. Learn more: WorkSafe.
Unusual facts about asbestos
Because of its ability not to melt and to be fireproof, it was popular on film and TV sets.It was even used as snow in the Wizard of Oz set in the poppy field scene. It was labelled as 'White Snow Magic' or 'Snow Drift' when it was being sold as a product.
Asbestos has also been used in cigarette filters as well as make-up and talcum powder. Surgeons used to use asbestos to close incisions after heart and lung operations.
Old-fashioned salon hairdryers with hoods sometimes contained asbestos to stop customers from being burned.
The UK is one of the countries in the world where the incidence of mesothelioma is the most prolific. Shipbuilders were among the most affected by mesothelioma as asbestos was used widely for lots of different materials on board ships.
What is the difference between types of asbestos?
There are three main types of asbestos used in building materials:
White asbestos
Chrysotile asbestos (known as white asbestos) is the form that has been used most widely in commercial applications. Floor tiles, ceiling panels, wall texture. 
Brown asbestos
Amosite asbestos (brown asbestos) was used in cement sheeting and thermal pipe insulation. Due to the needle like fibres this asbestos is more brittle. 
Blue asbestos
Crocidolite asbestos (blue asbestos) was used to insulate boilers and steam engines. It is the most heat resistant of all asbestos. 
Links to additional information
Document Control
Version: 1.0
Last Updated: Dec 2019
Next Review: Dec 2022
Owner: hsw@auckland.ac.nz
Approver: Associate Director, Health Safety & Wellbeing