New lectureship honours Marti's memory
The memory of exceptional New Zealand photographer Marti Friedlander (1928–2016) is being honoured by a new lectureship in the Faculty of Arts.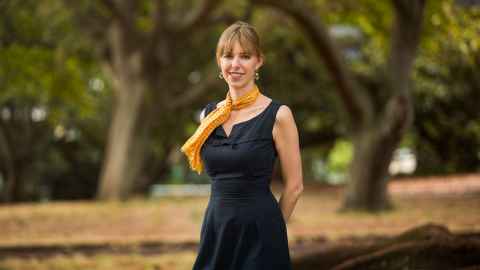 Originally from Amherst, Massachusetts, Dr Sophia Powers is the inaugural recipient of the Marti Friedlander Lectureship in Photographic Practices and History.
Dr Powers travelled from New York to take up the position at the University of Auckland this month, and says she sees parallels between her own journey to New Zealand and Marti's arrival here from London in the late 1950s.
"Just as I'm moving to New Zealand from the urban centres of New York, Los Angeles and New Delhi, Marti moved from London at the beginning of her career. As someone who is embarking on the journey to become a New Zealander, Marti's own life experience and the evolution of her artistic practice is a particular inspiration."
Her own work as an art historian has been devoted to exploring photography from around the world, with a particular focus on three contemporary female photographers from India, on which she recently completed her PhD at UCLA.
"My dissertation examines a mode of collaborative photographic practice in contemporary India that's marked by intimate, long-term engagements between artists and subjects."
I'm so delighted that Marti Friedlander's legacy will be supported in such a
substantial and meaningful way.
A longtime admirer of Marti's work, she says she has always been struck by the "deeply relational" nature of her images.
"The photographs she produced evince a remarkable intimacy between photographer and subject, even evident within fleeting interactions. She saw the world around her with such wonder and empathy, and through her artistic practice, was able to share this vision with the world."
And after watching Shirley Horrocks' 2004 documentary, Marti: The Passionate Eye, she was especially struck by the strength of Marti's personality and "her depth of curiosity".
"I'm so delighted that Marti Friedlander's legacy will be supported in such a substantial and meaningful way, and I'm deeply grateful to have the opportunity to honour her legacy through my teaching and research at the University of Auckland."
This lectureship was made possible by a generous philanthropic gift from the Gerrard and Marti Friedlander Charitable Trust.
Mr Friedlander is delighted that photography, its history and practices, is to be treated as a serious subject in art history.
"While what she did photographically was intuitive, Marti would have been so thrilled to know that there is now a full-time lectureship in the medium," he says.
Dr Powers will be teaching undergraduate courses in the global history of photography and global art histories, with contributions to the postgraduate programme in Art History from next year.