Four generations, four different degrees
Studying at the same university as your father, grandfather, and great-grandfather is a legacy not many can claim.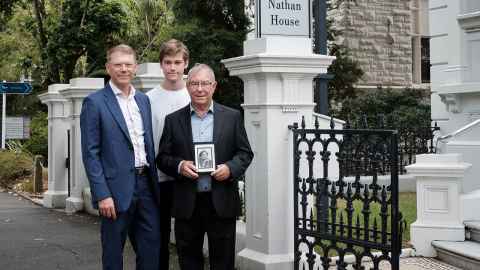 Oliver Goldsmith, son of National MP Hon Paul Goldsmith, continued an 80-year family history at the University of Auckland when he started a Biomedical Science degree this week.
Oliver's father Paul holds an MA in History. Grandfather Lawrence studied in the 1960s and holds a Bachelor of Science in Mathematics. And great-grandfather Rex (deceased) completed an MA in Philosophy in the 1940s, his thesis on the French philosopher Descartes.
"I think it's interesting that although our family has this legacy of attending the University, we all pursued/are pursuing completely different degrees/fields. Where my granddad did education, dad did arts and I am currently doing the sciences," Oliver says.
"My dad is always going on about us taking useful subjects but I recently found out he did Akkadian language to Stage 3 which I'm sure helped him in life immensely," Oliver quipped.
"Also, I heard that my great-grandfather Rex in his old age re-read his thesis and had no idea what he himself was talking about."
Not one to follow in his father's footsteps, Oliver hopes to progress to medicine and become a doctor.
His father Paul also felt obliged to try something different when he enrolled in history in the 1990s, after his brother had taken Medicine and his sister Law.
"Looking back, it seems almost reckless how I just did what I loved most, which was history. Judith Binney, Barry Reay, Valarie Flint, Nicholas Tarling and the others who taught us were internationally respected - they were inspirational because they loved their subject and highly demanding in what they expected," Paul says.
"Judith Binney, who supervised my thesis, was terrifying – far scarier than Winston Peters, or anyone I've encountered in Parliament. The critical thinking and clarity of expression that I learnt is as useful in Parliament as it is in almost any endeavour.
"I'm proud to see Oliver carrying on the tradition at Auckland. Any parent hopes their sons and daughters can find subjects to study that they love, leading to careers in which they succeed because they're passionate about it and they can find satisfaction in achieving something of real value."