An orchestra, some pop, and all that big band jazz
This year's School of Music Grad Gala promises to be a dynamic and diverse musical night out, featuring classical, jazz and popular music students from the School of Music.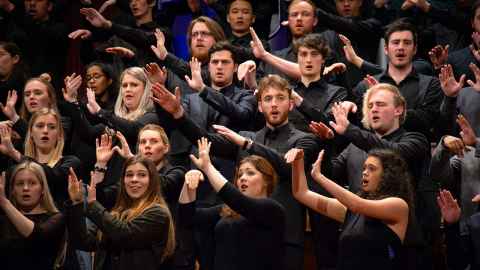 There will also be a performance of the Auckland Chamber Choir and the Massed Ensemble, comprised of students of the new Applied Musicianship paper.
This will include close to 200 people, creating one of the largest massed ensembles to appear on the stage of the Town Hall. It will be conducted by Robert Wiremu and Dr Karen Grylis, both of the School of Music.
The evening will begin with an orchestral performance, with the winner of the 2019 Grad Gala Soloist Competition, Diane Huh, who will be playing Sibelius Violin Concerto in d minor, 1st and 2nd movement.
This is a piece she began to learn last year but had been wanting to learn since high school.
"It's technically hard, but it's not just about the technicality; it's about understanding the nature of the piece, the environment it evokes," says Diane. "It's a great piece to play with an orchestra."
Singer and synthetic music producer and Popular Music student, Sophie Bailostocki, known as Lévyne, will perform her own original music, Misfit and Rainstorm.
As an electronic music producer she's thrilled to be performing in the Grad Gala. "It's exciting to play at the Auckland Town Hall, which is a beautiful venue. And it's such a cool collection of people. I think it's great that all of us will be together in one place."
The University of Auckland Symphony Orchestra will perform Gershwin's An American in Paris, conducted by Peter Scholes, and the Jazz Big Band will play Wrappin it Up by Fletcher Henderson, Blue Goose by Duke Wellington and Apple Honey by Woody Herman.
Overall, around 300 students from the School of Music will be participating.
"This will be a true celebration of the diversity of our students," says Associate Professor Martin Rummel, head of the School of Music.
"One that gives students from different disciplines the rare chance to perform together, all on one night, all on one stage."
Admission to the Grad Gala, Thursday 2 May is free but seating is not allocated. Patrons are advised to register beforehand and arrive early.