A new aesthetic in prosthetics
Professor Olaf Diegel, who recently joined the University of Auckland's Faculty of Engineering, predicts that in the not too distant future we'll be printing soft tissue organs ready for transplant.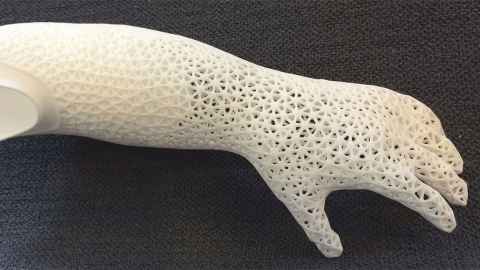 We already have the know-how to print some organs, such as bladders and tracheas, "but my prediction is, once they crack the vascular system, they'll be able to print more complex organs, like livers and kidneys".
Professor Diegel, a multi-award-winning product design developer appointed under the former government's Entrepreneurial Universities programme, took up his role as head of the Creative Design and Additive Manufacturing Laboratory (the Lab) at the University of Auckland this year.

He and the team he is currently building will, he hopes, change the way Additive Manufacturing (or AM, otherwise known as 3D printing) is implemented across many industries.

AM uses a layering process rather than the conventional manufacturing process. In the latter, a product is created by carving it out or subtracting it from a base material.
With AM, a 3D model of the original object is sent to a 3D printer, which prints many layers of liquid or powder, to gradually build up a replica object.
It's a process that can produce parts that are infinitely more complex and lighter than possible with conventional manufacturing, and produces less waste in the process.
AM has already had an impact in a number of industries including aerospace, automotive, fashion, construction and healthcare.
After leaving New Zealand in 2014, Professor Diegel led the product development department and AM lab at Lund University in Sweden.
During his career he has developed over 100 new products for companies in New Zealand and internationally, including several home health monitoring, security, marine and lighting products.
He also developed what has been described as the world's smallest refrigerator, to store insulin and other medicines.
He and his team at Lund University also designed a number of AM-based prosthetics, including one that was developed for a three-year-old girl who, as a result of a congenital condition was born without her left arm.
What makes it distinct from conventional prosthetics is its almost decorative sculptural aesthetic – more like an artwork than a conventional artificial limb.
"This little girls seemed to be proud of it," he recalls. "She almost seemed to be showing it off."
That and similar projects developed by his team at Lund resulted in the spinout company Anatomic Studios, which specialises in the design and manufacture of tailor-made prosthetic covers – designed to be worn as an item of fashion, a form of self-expression, rather than something to hide.
"Standard prosthetics, don't look right," says Professor Diegel. "This is about making prosthetics beautiful rather than ugly."
He and PhD students are now working with the Artificial Limb Society on artificial limbs for pets. Rather than amputate a dog's entire limb if it suffers a crushed paw, for instance, they hope to make it possible to amputate only the damaged bit and replace with a prosthetic.
AM has opened up a myriad possibilities, says Professor Diegel. As a personal hobby, he has designed and made almost 75 guitars using AM – bespoke, elaborately designed instruments made to individual order, including a guitar that references Guns & Roses (it's decorated with barbed wire and roses), a steampunk guitar and many more.
Professor Diegel sees great potential in researching and advancing the materials that can be used in AM – such as cellulose from timber, "all those waste products that we now throw away".
He also sees potential in advancing the software involved, to take better advantage of AM.
"We need better software that can make the technology more intelligent, and which can automatically redesign current manufacturing processes to take better advantage of additive manufacturing.
I think that's a potentially huge area of growth in New Zealand, because there's a world market for it."
Margo White I Media adviser
DDI 09 923 5504
Mob 021 926 408
Email margo.white@auckland.ac.nz