Clearhead app uses AI to identify mental health challenges
A smart technology platform helping to tackle Aotearoa's mental health crisis started with a business plan scribbled on a chip wrapper.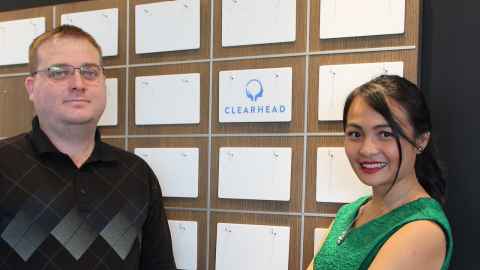 Angela Lim (BSc, MBChB) was at a Swiss artificial intelligence conference when an attendee challenged her to turn her passion for innovative healthcare into a business plan. She called friend Michael Connolly (BEng) to see if he was interested in being her technical co-founder.
"I asked him to meet me at a local takeaway and we got fish and chips," says Angela, a paediatric trainee. "A few hours later, we had our business plan written on the back of the chip wrapper."
With a little convincing, Michael agreed to found the start-up with Angela and the idea became Clearhead, a free online platform that functions as a one-stop-shop for mental wellbeing. The pair secured seed funding from the Swiss investor whom Angela had met.
Michael and Angela knew that launching a health technology start-up was a bold move.
"We took a huge leap of faith," says Angela. She says Clearhead aims to empower people through technology. It addresses issues of accessibility and fragmentation in the healthcare system.
"Most young people won't even pick up the phone for an unknown number, let alone call a stranger to book an appointment. Clearhead brings healthcare to the people in a way that provides choice, convenience and control."
The platform uses artificial intelligence to help users identify their mental health challenges. It then matches them with personalised resources and allows them to book appointments with mental health professionals online. Angela and Michael say Clearhead's success so far can be credited to volunteers who help out in everything from marketing to sales.
"We couldn't have achieved as much as we did without the support of our amazing volunteers."
The pair would love alumni to get involved with Clearhead for Volunteer Impact Week, by spending a few minutes trying out the platform, providing feedback to Angela and Michael, and spreading the word on social media.
Michael and Angela can be reached by email:
contact@clearhead.org.nz.