Stanley Jones: making things beautiful
The job of head gardener at the University of Auckland can be 24/7 but Stanley Jones wouldn't have it any other way because it's such a beautiful place to work.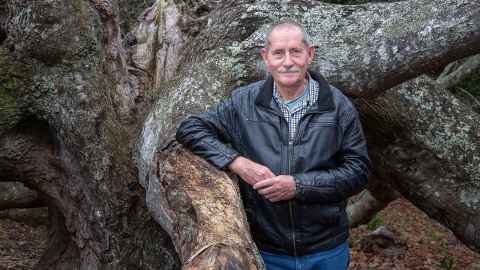 Stanley Jones wonders if people could "just look up from their phones" when they're walking through the University of Auckland's gardens and appreciate the beauty around them.
Stanley is the grounds and precincts manager, aka head gardener, for the University's campuses from Leigh to Tāmaki. The best-known gardens are at the City Campus and Stanley says the sheer beauty of nature on that campus is worth paying attention to.
It's not too much to ask from a man whose passion for making his workplace beautiful begins when he arrives each day at 7am.
Old Government House (OGH) and its gardens are a significant 19th-century historic place. Ngāti Pāoa and Ngāti Whatua trace ancestral activity in the area to the early 17th century and Māori used the site from 1840 to grow potatoes and flax. A team of gardeners was employed by the governor in 1841 to create and maintain the gardens around Government House and the first public gardener was Alexander Hobson who planted the flame tree (Erythrina caffra) on the main lawn of OGH.
His Royal Highness Prince Alfred, son of Queen Victoria, planted the Norfolk pine (Araucaria heterophylla), also on the main front lawn, and the giant redwood (Sequoiadendron gigantium) on 14 May 1869, near the main lawn. The latter is Stanley's favourite tree.
"These trees were planted so long ago and we just look after them for a short time. I must make sure I give the garden over to the next person better than when I received it because our lives are fleeting."
He says while history is important in the garden, so is the process of renewal.
"I like trees because when I go away then return to a place, there are the trees that I've planted. The trees have a life cycle so you must renew all the time."
He says the secret to the lush growth all over the campus is that there's been minimal soil disruption in the area.
"We have good soil because it has not been destroyed. In many parts of Auckland they strip the topsoil and then you have to buy it back. Hundreds of years of topsoil has been destroyed. That's why you see trees around the houses struggling. But here, the ground has never been disturbed."
Stanley has developed a garden training patch near the historic gardeners' cottages on the City Campus. The aim has been to show his staff how to create different types of gardens, including a little Japanese garden and a bromeliad garden.
"There was very little there before. Just the sheds and the road running through. So we created this. I like to make things beautiful. If you go to many Auckland gardens they've got the same five plants ... that's not beautiful.
"And how many people grow fruit trees? I'm quite worried that the next generation will lose that … our grandparents could grow fruit.
"Today people go to nurseries and they buy something and three weeks later it's dead so they go buy new ones. Many people don't know how to nurture nature."
Stanley's ultimate successor has big shoes to fill. The South African-born gardener's experience spans many years in his homeland where he first studied horticulture.
"There are beautiful gardens in South Africa. I worked in Cape Town and Durban as well as several other cities for Councils, Parks, Cemeteries and Reserves Departments. Before starting at the University in 2009, I was part of a team who maintained the Parks and Open Spaces in Manukau.
"This is a different job to any other job because it's 24 hours, seven days a week. I'm so involved."
He does get some time to do oil paintings, however. "It's good for your brain to paint … to do good landscaping I think you need to be artistic. You need to understand the flow, the focal points and what's pleasing to the eye."
The catalogue of plants across all University of Auckland campuses is vast, numbering around 8,000, including the Australian tree collection planted by Governor Viscount Galway's wife Lucia between 1935 and 1941. As well as regular planting of the beautiful or significant, Stanley says it's important to help preserve endangered plants, no matter where they are from.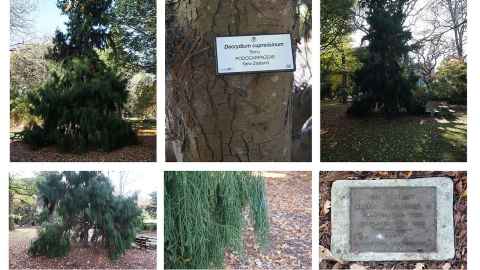 He is proud of his team's work each and every day. Walking through the gardens with Stanley is the chance to hear him deliver his dry-as-bark banter with gardening staff.
"I come in early and I walk through the gardens. My staff start in summer at 6am so they can clean the place before people arrive. 
"In winter it's 6.30am, out with the leaf blower. It's a lovely time of day.
"I walk a lot, up to 20km a day. The garden is strange. You will plant and plant and then suddenly it goes whoosh!"
There's always fine tuning. The giant redwood, on a lean, is measured regularly to ensure if it ever does fall, it doesn't go through the fence onto the footpath. It's topped to keep it a certain height so it would fall just inside the fence.
Another has branches that need to be trimmed from underneath so they can't be reached because the tree is poisonous.
You can find out these snippets if you go on one of Stanley's garden tours, and there's also a map of the garden's major plants on a big sign outside OGH.
But it's not just the OGH gardens Stanley is proud of. "I like the perennial gardens down behind the Music School. And there's a nice little tropical garden down at Architecture."
Warned ahead of the interview that Stanley might not have much to say about himself, it turns out that all that's required is an interest in what he does.
Stanley was raised by his grandparents in South Africa. His grandfather was a fruit farmer and Stanley remembers fruit in abundance in his childhood.
His family have all completed masters degrees at Auckland – his wife in education, his son in archaeology and his daughter in fine arts. He has a three-year-old granddaughter whom he worships … and he can't resist showing a photo of her on his phone.
He says the lifestyle of many people seems to make it hard to take time to enjoy the sanctity of nature, but for anyone who's a student, staff member or just a visitor at Auckland, the opportunity's there.
"I just think most people are four days ahead. We think four days ahead and we get this glazed look because we're all so rushed.
"Some other workplaces are just concrete; it's sad. People stand in the street. But in our gardens you can sit and be calm for a while and just relax."
Worth looking up from your phone.
– Denise Montgomery
STANLEY'S PLANTING TIPS
ANNUALS: "There are winter and summer annuals but do not buy at the end of each season as the plants will not adapt ... if you buy winter annuals right into summer, they'll be dead soon. With annuals you need to buy the plant small, without a flower, so it can grow properly. If you buy it with a flower it's past its prime and is only going to last a few weeks."
TREES: "Various fruit trees have to be bought in pairs because one pollinates the other. They're not self pollinating but people often don't realise that. Also, with trees in general, people tend to buy as big a tree as possible. I say no, buy as small as possible! That small tree will catch up soon. Rather than get a big pot-bound tree, get a small one and be patient."
BE SENSITIVE: "We need to be more sensitive about how we plant and what we plant. For example, not everything should be in a row. When you plant fruit trees, plant in between. Plant close together and make a microclimate."