University celebrates its community from refugee backgrounds
Bilal Nasier fled war-torn Afghanistan with his family when he was four-years-old, claiming asylum in New Zealand. Today he is completing a doctorate in Clinical Psychology at the University of Auckland.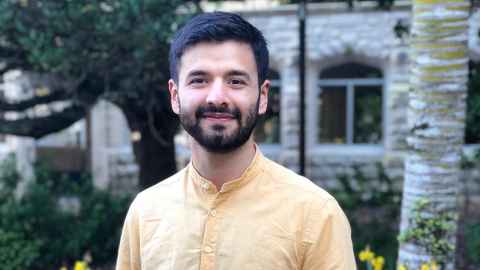 He is one of 750 students with refugee backgrounds currently enrolled at the University of Auckland who will be celebrated during the University's inaugural Refugee Week, August 26 to 30.
For the first time, the University's Students from Refugee Backgrounds Club (SRB Club) with support from the University's Equity Office, have pulled together a week's worth of activities and events to celebrate refugees and the NGOs which support them.
"University can be very daunting, especially to former refugees who grow up in New Zealand but may not have older siblings or family who have been through tertiary study," Bilal, 24, says.
Bilal holds a Bachelor of Psychology degree from the University of Auckland and practiced as a youth worker and behavioural therapist before returning to complete his doctorate. He also mentors high school students from refugee backgrounds who are thinking about tertiary study.
But for the first 15 years of his life in New Zealand, he didn't tell anyone he was an asylum seeker.
"I was ashamed, how do you bring up in a conversation with kids who grew up in New Zealand that people smugglers brought you here on false passports?" Bilal says.
"But as I got older I've been able to draw on that background – it has become a source of strength."
Bilal's family made the decision to flee Kabul after their home was bombed while his mother was giving birth.
"The house we lived in was bombed the day my brother was born - a rocket propelled grenade landed in the lounge, luckily it didn't go off. Earlier that day my mother was sent home to give birth because the hospital had been bombed," Bilal says. "That was the day my parents made the decision to leave."
As it is difficult for Afghans to get visas to travel overseas, his family were forced to pay human smugglers for fraudulent passports to get out.
 
University can be very daunting, especially to former refugees who grow up in New Zealand but may not have older siblings or family who have been through tertiary study.

"My father is a doctor and we were a relatively wealthy family, but we left with just a couple of suitcases. It was the hardest decision my family ever made. It has had many far-reaching consequences, but we are still here and we are still alive."
Bilal attended Mt Albert Grammar School and after completing his undergraduate degree, helped established Empower - a refugee youth mentoring network. He also sits on the Ministry of Youth Development's Partnership Fund Board responsible for allocating funding to youth development opportunities.

He is one of only 12 students accepted into the Doctor of Clinical Psychology degree programme in the Faculty of Science, which he hopes will prepare him to better counsel former refugees living in New Zealand.

Activities will be held every day on the City Campus during the University's Refugee Week including movie nights, meet and greets, fundraising in the quad, as well as the Forced Migration Art Exhibition by Kurdish artist Dastan Tahir Othman, exploring the stories of the Sinjari people.
Notes to editors on refugees:
In 2012 the University of Auckland was the first in New Zealand to include staff and students from refugee backgrounds in its Equity Policy. The Equity Office established an Advisory Group and developed an outreach programme with high schools to provide an engaging experience for refugee background students that demystifies university and helps them see themselves as future University of Auckland students.

Three years ago the University of Auckland Scholarship for Students from a Refugee Background was introduced, thanks to philanthropic funding from the For all our Futures campaign. Up to three scholarships worth $5,000 are available each year to assist first year students who are New Zealand citizens or permanent residents who come from a refugee background.

In 2019 the University of Auckland has 750 students enrolled from refugee backgrounds. New Zealand resettles 1000 refugees annually through the Refugee Quota Programme. In the last 20 years the largest groups of refugees have come from Vietnam, Laos, Cambodia, Burma, Iran, Iraq and Afghanistan.