Tackling HIV issues in rural Oregon – Auckland student up for the challenge
Reducing stigma, increasing testing, and decreasing rates of HIV in rural Oregon was the challenge ahead for Rosie Lee on her first trip to the US recently.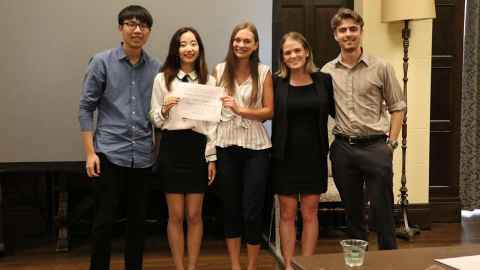 A Bachelor of Sport, Health and Physical Education student at the University's Faculty of Education and Social Work, Rosie was one of two University of Auckland students selected to attend the Association of Pacific Rim Universities (APRU) Undergraduate Leadership Programme which brought together 50 thought leaders to exchange ideas and collaborate on solutions to 21st century challenges.
Rosie spent two weeks in Eugene, Oregon putting her public health skills to the test with community partner the HIV Alliance. The group developed a community-focused solution to the problem, connecting with a local health organisation to offer free health testing services in a health booth at local county fairs.
"A lot of those rural communities can be quite conservative and resistant to change," says Rosie. "It was important that the method was discreet, so we decided to involve an organisation that locals would recognise and trust, avoid using the HIV Alliance branding, and offer generic health testing that also included blood pressure and glucose levels."
The creativity and rationality of their solution saw the group take first place, winning a donation to the HIV Alliance as a prize.
"The HIV Alliance said that our solution was very feasible and something that they could implement straight away – so hopefully our donation can contribute to that."
Rosie says the programme was an excellent opportunity to put her studies in health promotion and education into practice.
"The trip really reinforced how much I have learnt at Uni. I've been taught that effective health promotion work generally involves the community that it impacts – so I knew our solution would need to involve the rural groups directly."
The programme also involved a series of development workshops designed to improve students' leadership, communication and conflict resolution skills.
"It was a great chance to improve my teamwork skills and refine my leadership style," says Rosie.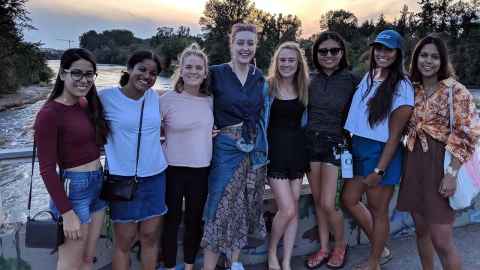 Outside the classroom, the students also managed to pack a lot of sightseeing into two weeks, visiting beaches, fairs, lookouts, heritage walks and even watching a baseball game on the fourth of July.
"The whole experience was so positive and impactful. It was really inspiring and energising to meet so many different people who were all passionate about the same sorts of things. I would definitely encourage other students to make the most of these sorts of opportunities," she says.
Rosie Lee is in her final year of a Bachelor of Sport, Health and Physical Education, majoring in Health Promotion and Health Education. She's currently completing a work placement with Auckland Sexual Health Services and hopes to use her degree to work in Māori health when she graduates.