New students start their teaching journey
Epsom Campus was buzzing with excitement yesterday, as the Faculty of Education and Social Work welcomed over 300 new students to the University.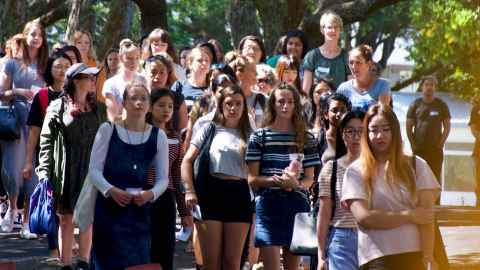 Yesterday marked the first day of study for our new Graduate Diploma in Teaching students, who are gearing up for a year of learning, practical experiences and personal growth.
Students from all specialisations – Early Childhood Education, Primary, and Secondary – were welcomed to Te Aka Matua ki Te Pou Hawaiki with a pōwhiri.
The students will spend the year studying teaching, developing their skills and completing practical placements in schools and centres. The one-year Graduate Diploma in Teaching programme allows students to build on their existing undergraduate degrees to become qualified teachers in one year.
Dean of Education and Social Work, Associate Professor Mark Barrow, acknowledged the wide range of knowledge and skills these students bring to the faculty, while highlighting the challenges ahead.
"You are already well-educated members of society," Associate Professor Barrow said. "We have about nine months to work together to help you make the shift from being a mathematician, a scientist, a historian, etc., to being a teacher, ready to take on the challenge of your first teaching role."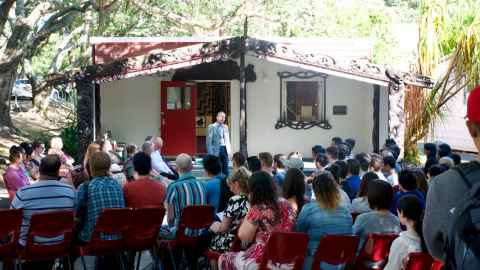 "Working out how you will embody theories in order to be a successful teacher will be a unique and personal journey for all of you. It will require a lot of reflection and a willingness to change, to take risks and to try new things.
"I urge you to take advantage of every opportunity this place offers you – don't hold back, challenge yourselves, challenge each other but do so respectfully, ask for help when you need it, have fun and work hard in this wonderfully diverse faculty."
The students spent the rest of the day getting to know each other through campus tours, ice breakers and introductory lectures. With the first day done and dusted, they've begun the exciting journey of becoming teachers together.