The emerging coronavirus outbreak in China
Opinion: A new pneumonia-causing virus is spreading around China and has spread to other countires. But should we be worried here in New Zealand? Associate Professor Siouxsie Wiles explains.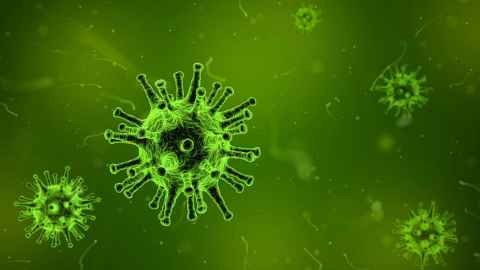 By now you've probably heard of the new virus causing an outbreak of severe pneumonia in China. The question on most people's minds is, how worried should we be, especially as hundreds of millions of people will soon be travelling across China and beyond to visit family for the Lunar New Year holiday?

What's happening in Wuhan City, China?
In late December, there was a cluster of cases of pneumonia of unknown cause. Most of the people affected worked at a seafood and live animal market. By early January there had been 44 cases, with eleven of those people severely ill. To date*, the number of confirmed cases has risen to over 300 and 18 people have died. Cases have now been reported in Beijing and Shanghai, as well as in Japan, Thailand, and South Korea. There is an unconfirmed case in Australia. All of these people had travelled from Wuhan.
While it might sound awful, the fact that at least three of the dead had other health issues is good news in terms of how deadly the infection is likely to turn out to be. It's when symptoms are so severe that young healthy people also die that the death toll rockets.
*Numbers are accurate at the time of publication, however the situation is changing daily.

What's causing the outbreak?
A novel coronavirus not identified before. It's been called the 2019 novel coronavirus or 2019-nCoV for short. It's still not clear what the original source was.
What's so special about coronaviruses?
Coronaviruses are a large family of viruses that circulate in animals and humans. In humans, they usually cause nothing worse than a cold, but at least twice in the past twenty years, coronaviruses have spread from animals to humans and caused more serious respiratory infections that resulted in deaths. These are SARS and MERS.
SARS and MERS?
SARS stands for Severe Acute Respiratory Syndrome. It's caused by a coronavirus called SARS-associated coronavirus (SARS-CoV) which crossed to humans from bats via a civet cat. It was first reported in China in February 2003 and spread to many countries in Asia, Europe, and North and South America. In the end, there were 8,098 cases and 774 deaths. There hasn't been a case reported anywhere since 2004.
MERS stands for Middle East Respiratory Syndrome. Again, it's a severe pneumonia caused by a coronavirus (MERS-CoV). This one emerged in Saudi Arabia in 2013 and appears to be associated with dromedary camels. To date, there have been almost 2,500 confirmed cases and 858 deaths.
To put those deaths in perspective though, the US Centers for Disease Control (CDC) estimate that each year in the US alone 12,000-61,000 people die of seasonal flu.
Super-shedders…
One interesting feature of the SARS and MERS outbreaks is that while most infected people didn't infect many other people, some became what are known as 'super-shedders' – infecting huge numbers of other people. A combination of shedding large amounts of virus, overcrowding, and a poor ventilation system saw one SARS patient infect 138 staff, patients, and visitors at one hospital in Hong Kong. Meanwhile, one patient with MERS travelled from the Middle East to South Korea infecting 186 people, 38 of whom died.
So, should we be worried?
The World Health Organization are saying there's no need for alarm just yet, but there is still so much not known about this virus that things could change very quickly.
As of Monday 20 January, it looked like the virus wasn't transmitting very well between people, but there are now reports that 14 healthcare workers have been infected from one patient. This could mean super-shedders are starting to emerge. If that's the case, we may well start to see big jumps in the number of cases. But it could also just be a failure in the systems that should be in place to protect healthcare workers from infection. Let's hope it's the latter.
For now, if you are travelling to China for the Lunar New Year, avoid live animal markets and people with flu-like symptoms, wash your hands frequently, and try to avoid touching your face. If you develop flu-like symptoms, quarantine yourself and contact your GP, and make sure you practice good sneeze and cough hygiene – into your elbow, not your hands!
Associate Professor Siouxsie Wiles is a microbiologist who knows a lot about bacteria, viruses and infectious diseases. She is based in the Department of Molecular Medicine and Pathology, located within the Faculty of Medical and Health Sciences' School of Medical Sciences.
This article reflects the opinion of the author and not necessarily the views of the University of Auckland.
Used with permission from SciBlogs, 'The emerging coronavirus outbreak in China', 21 January 2020.
Media contact
Nicola Shepheard | Media adviser
DDI: 09 923 1515
Mob: 027 537 1319
Email: n.shepheard@auckland.ac.nz