Coronavirus update: spread outside China and a new name
Opinion: With over 69,000 confirmed cases and 1,600 deaths, here's Associate Professor Siouxsie Wiles' round-up of the latest coronavirus news.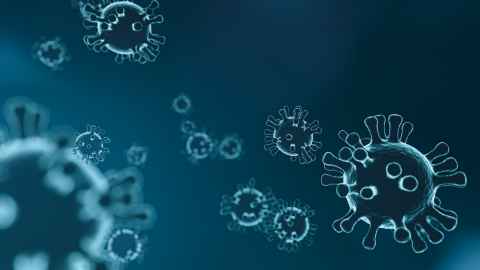 New disease and virus have now officially been named
On 11 February, the WHO Director General announced a new name for the disease: COVID-19 which is short for coronavirus disease 2019. The naming follows the WHO's commitment not to call diseases after people, places, or animals, to prevent stigma.
The new virus itself also got a new name, decided on by the Coronavirus Study Group (CSG) of the International Committee on Taxonomy of Viruses. Because the virus is closely related to the coronavirus that caused the SARS outbreak, they've called this new virus SARS-CoV-2 – severe acute respiratory syndrome-related coronavirus 2. Plenty of people online are wondering if this was the right call seeing as the virus is actually more closely related to several bat coronaviruses than it is to SARS-CoV. They're proposing we stick with 2019-nCoV which is what the virus has been referred to for the last few weeks.
For the moment at least, we can say that the SARS-CoV-2 virus causes the disease COVID-19.
Big increase in the number of cases
We all got a bit of a shock the other day when the number of confirmed cases jumped by nearly 15,000 in a single day. It turns out this was due to a new policy being put in place that allows doctors in Hubei to diagnose suspected COVID-19 cases on the basis of chest images, rather than having to wait for genetic tests for the virus, which can take days.
Temperature screening may not be that useful
Over 68,500 of the 69,200 confirmed cases of COVID-19 are in mainland China. There's a really interesting article in the New York Times about the lengths China is going to try to curb the spread of the virus. As they put it, the government is "entrusting front line epidemic prevention to a supercharged version of a neighborhood watch". The article describes how hundreds of thousands of workers and volunteers are checking people's temperatures and logging their movements.
How useful this strategy is, only time will tell. A recent preprint by Wei-jie Guan and colleagues reports the symptoms of 1,000 patients with COVID-19. They found that less than half of the patients actually had a fever when they first arrived at the hospital. That makes it very difficult to use temperature screening to identify people in the early stages of infection.
Cruise ships quarantined
On the Johns Hopkins COVID-19 tracker, more than 350 confirmed cases are currently listed as 'Others' for country/region. These likely relate to the cases that are popping up on cruise ships, of which there are plenty sailing around Asia. It's not yet clear what role ships will have played moving the virus from country to country, but it's likely they were overlooked at least initially while everyone was focused on air travel.
The Diamond Princess, a cruise ship with about 3,700 passengers and crew on board, is currently quarantined off the coast of Japan in Yokohama after a former passenger tested positive at the beginning of February, a week after disembarking in Hong Kong. Over 280 other passengers have since tested positive and been taken off the ship for medical treatment. The US Embassy in Tokyo have announced they are chartering a flight to evacuate their citizens. Everyone else is stuck on board at least for a few more days. There is a really interesting piece on Vox about the ship and whether the quarantine is a good or a bad thing. It sounds like some of the crew have now tested positive and they aren't able to self-quarantine as they are living in shared quarters.
Meanwhile, the first passenger on the MS Westerdam, which is currently docked in Cambodia, has tested positive for the virus and been flown to Malaysia along with 144 other passengers. That ship carries over 1,400 passengers and 800 crew and has spent the last two weeks at sea being turned away by Japan, Taiwan, Guam, the Philippines and Thailand. Most passengers and crew have now been flown home.
Talk of a "stealth" outbreak in Japan
So far there have been more than 40 cases of the virus in Japan, including a surgeon and a patient at the same hospital. None of the recent cases has any history of travel to China, but one of the cases is a taxi driver who it's thought might have ferried passengers of the Diamond Princess cruise ship in early February. No doubt Japanese officials are concerned about the virus establishing there given the Summer Olympics begin in Tokyo in July.
Other cases outside mainland China…
Hawaii is on the alert for COVID-19 cases after a couple visiting from Japan tested positive for the virus. The husband reported having had "cold-like symptoms" for some of the trip. Authorities are currently tracing those the couple may have been in contact with.
Egypt has also announced its first case. It says the person is a foreigner and currently has no symptoms and is in isolation in hospital.
New Zealand government extends travel restrictions for a further eight days
Health Minister David Clark announced that restrictions preventing foreign nationals travelling from, or transiting through, mainland China to New Zealand would stay in place for another eight days. The government are also asking citizens and permanent residents who are still able to enter New Zealand to self-isolate for 14 days.
There are still no confirmed cases in New Zealand and the Ministry of Health reported that 4000 people had registered themselves as being in self-isolation.
And finally… check out this great piece in The Conversation by Dr Ian Mackay and Dr Katherine Arden from the University of Queensland, which explains the difference between airborne and droplet spread. There is currently no evidence the virus is airborne. Rather it's spread through droplets shed by infected people.
Associate Professor Siouxsie Wiles is a microbiologist who knows a lot about bacteria, viruses and infectious diseases. She is based in the Department of Molecular Medicine and Pathology, located within the Faculty of Medical and Health Sciences' School of Medical Sciences.
This article reflects the opinion of the author and not necessarily the views of the University of Auckland.
Used with permission from SciBlogs, Coronavirus update: spread outside China and a new name, 16 February 2020.
Media contact
Nicola Shepheard | Media adviser
DDI: 09 923 1515
Mob: 027 537 1319
Email: n.shepheard@auckland.ac.nz