Engineering faculty puts past behind it with bold vision and new haka
When the new Engineering Building opens its doors to students on 2 March, it will mark the start of a new era.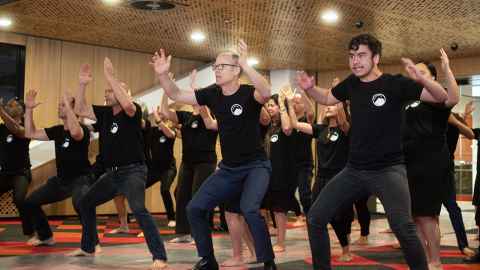 When Dean of Engineering Professor Nic Smith ends his six-year stint at the University this month, he will look back on many faculty achievements, but one has made him prouder than most. It came at the December opening of the new $280m Engineering Building with a dawn blessing, the unveiling of a pou whenua (carved wooden post) and, significantly, a new haka.

"The opportunity to stand shoulder-to-shoulder with my colleagues, to perform our haka and signal a new beginning for Engineering was special," says Nic. "It was a unique chance for us to articulate and celebrate the values and culture of our faculty community."
The haka – Me Hoki Whakamuri Kia Anga Whakamua – goes a long way towards healing the hurt inflicted more than 40 years ago, in an era when engineering students would perform a mock haka annually as part of their capping pranks, despite protests at the time.
Nic will take up a new role as Provost at Queensland University of Technology this month and says performing the new haka was a highlight of his time at Auckland.
"We were not only opening a new building, but also signalling what that building offers … and the direction in which we want to go as a faculty."
The haka was created by staff with Tāpeta Wehi, co-founder of Te Wehi Haka and leader of the Haka Experience.
Nic says the issue of the mock haka has concerned him since he became Dean in 2013.
"One of the frustrating things is that while the haka story has been forgotten by many New Zealanders, it remains an important and challenging reminder for the Māori community of a time when the haka's unique ability to draw us together and collectively issue our clarion call was not always understood or respected.
"I sat next to a person on a plane back in Wellington fairly early on in my time as Dean. After I told him my job he said 'oh, yeah, yeah. You're the fellows who used to do that haka'.
Our haka legacy was stymying our efforts to move forward. So in the faculty we had a conversation about what was important for us. What did we want to represent?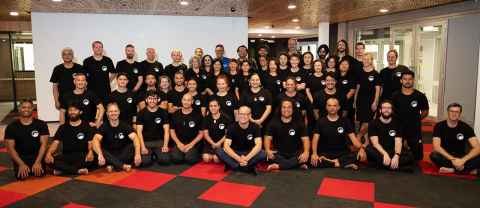 "It is important that we acknowledge all our history. However, our haka legacy was stymying our efforts to move forward. So in the faculty we had a conversation about what was important for us. What did we want to represent? What was the common thing about us as a group we wanted to hold up and say, this is what we're about?"
Catherine Dunphy, Kaiārahi for the faculty, said the historic incident reflected what was happening in society at the time but the new haka represents the faculty's aspirations for the future.
"The only way to move ahead is to understand and acknowledge our history," she says.
Nic says the new haka is a rallying call for engineering to define its purpose.
"We are uniquely positioned as the Faculty of Engineering in the South Pacific, of relevance for our iwi community and all the people of Aotearoa New Zealand. There's still a lot of work to do but we have a number of absolutely fantastic young Māori staff who have joined the faculty over the past three years and are helping us move forward."
These include lecturer Dr Tumanako Fa'aui, Professional Teaching Fellow Aimee Matiu and doctoral student Nona Taute who, with current students, led the haka at the blessing.
The haka's development is part of a greater strategic priority for the faculty. In 2018, Engineering began to look at ways to identify students who may not otherwise have chosen engineering as a subject. It ran a four-week camp called Genesis, taking in 20 Māori and Pacific students. "None had qualifications to get into engineering," says Nic. "Some didn't even have qualifications to get into university. At the beginning, we tested them and the average scores went from less than 30 percent to over 80 percent.
"Of the 20, we offered 15 places in engineering although five went to science. These are students who otherwise would never have come to university. Most of them are first in their family. It's a small number, but it's a significant number and one that we must continue to build on."
Nic says diversity among students and staff is improving. "Over the past six years the number of engineering women students has risen from just over 20 percent to 30 percent now, a trend the faculty is determined to continue. Our biomedical programme has 60 percent female students.
"For staff it takes time. You have a staff group who span everything from people who were here as students during the haka era to people who are very new. Look at our younger staff. We are much more diverse in the faculty as a whole and we're better for it."
He acknowledges that engineering may still have an image problem.
"The reality is, engineering today is an enormously diverse discipline, meaning that while today's engineers have important technical skills, they're also creative people who can navigate uncertainty and rationalise complexity. For students today, as they consider a new problem, being able to ask the relevant new questions is increasingly just as important as answering existing questions.
"What gives me confidence is that it's exciting how quickly our students are developing these skills," says Nic. "They're diverse, talented and highly motivated to contribute to a better world in many new and emerging areas.
"They look at how we as a society respond to challenges. For example, consider autonomous vehicles. The question is not how to do it. The question is how do you introduce them and what are the ethics of a driverless vehicle having to decide between running someone over at a crossing or crashing and killing the occupants?
"Or 3D printing. The question is not the technology. It's about what happens to the intellectual property. And what does it mean for the manufacturing sector? What can we now design that we couldn't make before?"
He says engineers have to play a leadership role and become more engaged with their wider community and other disciplines and types of expertise.
"Yes, we need people to deal with engineering challenges around climate change. But actually, we need people who have a wider perspective and who understand how and why ideas and technologies are going to be adopted by society."
He says by being able to bring disparate communities of different skills together you can start to address some of the challenges. "A single engineer or even a huge group of engineers isn't going to solve climate change alone."
Nic says all universities need to work on their relevance to the local community.

"If you look at the changing demographics of Auckland, and New Zealand, if we are not relevant for our young people, if we're not relevant for Māori, if we are not relevant for our wider community, there is a huge risk that we're not going to be relevant as an institution."
Another goal is to engage more with a wide spectrum of industry.
"When I arrived, we had one of the poorest engagements with industry. But now I can point to many major corporate partners and relationships for supplying students, research, support, and equity programmes."
Nic looks back with pride on many of these things but his proudest moment came at the opening ceremony of the new building.

"I got an email afterwards from one of our staff who said 'I was there doing the haka in the 1970s when I was a student and I can't tell you how good it made me feel to now be part of a faculty that has given that story some closure'."
– Denise Montgomery
Professor Gerard Rowe will be acting dean of the Faculty of Engineering.