Michele Leggott: Poetic snapshots in time
After more than three decades of having her poetry published, Professor Michele Leggott has selected some of her best.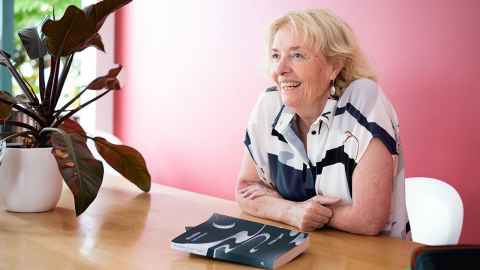 Professor Michele Leggott sits at her dining table in Devonport with her nine poetry books displayed in front of her.
"I love each of my nine books, they're like children. Any poet, any novelist, will tell you that each book is such a project. And at the end of it, you feel as if you've just given birth."
Nine collections of poetry, beginning with Like This? in 1988 through to 2017's Vanishing Points. Now there's Mezzaluna, selected poems covering 30 years of her work.
The book was first published earlier this year by Wesleyan University Press in Connecticut.
"They invited me to do a selected poems. It was a big deal. I said, 'That's great. I'd love to do it but talk to Auckland University Press (AUP) first'."

AUP wasn't a hurdle but then came the real challenge.
"Each book reflects a certain part of my life, not always autobiographical, but it does reflect what I was doing and what I was interested in. I've got a big thing for chronology, so I did wonder how I'd go about selecting the poems."
Our first New Zealand Poet Laureate (she hastens to add there were five Te Mata Poet Laureates before that) was then tasked with "choosing parts of her children".
"Worse than that, cutting them up and filleting them," she laughs.
Michele laughs a lot. She attributes her positivity to her mother.
"My mother was famously happy. You know, there'd be three kids fighting in the back seat of the car and my mother would turn around and roar, BE HAPPY! It would work because we'd all fall apart laughing. She was determined to be happy."
Michele also credits her mother with imbuing her with resilience, a characteristic she was required to draw on heavily as she started losing her sight. Around the time her son James was born, in 1985, she was diagnosed with a mild form of retinitis pigmentosa (RP) or night blindness. But in 1994, by which time she'd had another son, Robin, she was diagnosed with a more severe form of RP, which gradually destroys cells in the retina that are responsible for colour vision and fine focus.

"If I'm a strong person, mum is the reason. It's not that dad wasn't, but when we are talking about core resilience, my mother had it in buckets. If something was bad, she'd say 'Well, dear, lie down, have a little cry and then get up and make a cup of tea and keep going'."
Her mother was also hugely supportive of her father, a builder and fledgeling artist.
"Dad drew as a kid, but grew up during the Depression and left school at 15. His apprenticeship was as a joiner and cabinet maker so I know where I get my perfectionism from."
When her father was about 40, Michele's mother encouraged him to explore his creative streak.
"She bought him some little oil paints for Christmas when I was about 10 and said, 'You're an artist. You know this. You need to give yourself some time to draw and paint. That gift in 1966 led to his decision to go to classes and began painting, first in oils then watercolours.
"Thank God she encouraged him," says Michele. "He was talented and it was a great experience for him."
He died aged just 55, in 1981. "But some of the best photos we have of my mum and dad were taken in the very last year of his life, up the mountain in Taranaki. It's summertime, there's a pohutukawa in the background and Dad has his sketchbook. They've taken a day off."
After her father died, her mother followed within 18 months. "It was just awful."
The years have softened the pain of their premature passing.
"And I am glad that my parents didn't have to know about me becoming blind. They died before either of them had to know that."
Once the reader is giving attention, they may look at what else there is in the poem that you want people to take notice of. That's when a poem starts to work in terms of the layers.
In Michele's book of poems As Far as I Can See (1999) she conveyed her sorrow at losing her sight and was still hopeful for a cure.
"My ophthalmologist is a world specialist in retinitis pigmentosa. I trust that if something comes along that looks fantastic, she would get hold of me. There might be a magic moment and I might get my eyesight back. But if you've lost a faculty in the way I have, you've got to learn how to live with it because if the magic bullet doesn't arrive until I'm 95, wouldn't that be annoying?
"It's much better to deal with each stage of the decline as it happens and to figure out ways around it. That's why I'm happy to talk about it but I've never wanted to be pigeonholed as a 'blind writer' or a 'blind lecturer'. It's part of who I am. It's part of what I do."
She and husband Mark have lived in their Devonport home since 1986. It's a little big now that their sons are adults, one living overseas, but it's familiar for Michele. She can remember the house layout from before she lost her sight.
"Fortunately, I also married an exceptionally tidy person. That's really good because if you're living with someone who can't see, things need to be in one place, you need to know where they are and that they haven't shifted.
"He's also a brilliant cook. As are my sons; Robin is a chef. Why would you not let the brilliant cooks cook? I've got such amazing support from family and people who can help me with the housework, cooking, whatever. I do take advantage of that because it means I'll have more energy and mental capacity for the things I like to do."
Which is to write, of course. Her creative output has earned her many awards and accolades including the Prime Minister's Award for Literary Achievement in Poetry, the New Zealand Order of Merit, the inaugural New Zealand Poet Laureateship in 2007, and being a Fellow of the Royal Society Te Apārangi – only the second poet to receive the honour.
Perfect introduction 
For people who don't know her work, Mezzaluna is the perfect introduction. As poets are wont, the title has several layers of meaning. On the one level, a mezzaluna is a crescent-shaped kitchen implement for chopping herbs.
"Everything can be one thing, but it can be another. So the actual word mezzaluna is Italian meaning half moon. My son gave us a mezzaluna and the moment I heard that word I thought it was beautiful … it's cool because it looks like a half-moon and poets are very keen on moons. Moons are all the way through my poetry."
While the lunar title came fairly easily, choosing the stars to make up the selected poems was more challenging. When she first sent her selection to Wesleyan, it was 500 pages and she was firmly directed to get it down to the 200 pages it is today.
"I knew I wanted it to be chronological. I thought, okay, what do I want that person to feel coming to my work? I want them to feel the things I have been excited about … the things that still jump out."
That switch into audio was one of the hardest things because I had to go right back to the beginning. I couldn't even open a Word file ... I was teaching English and I couldn't edit. But you do it over and over and eventually it starts to come.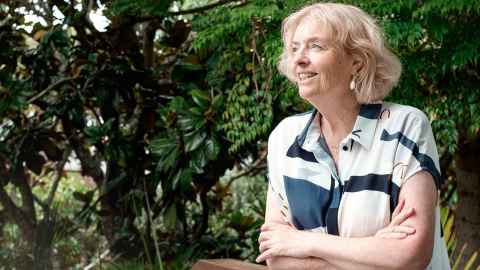 The task was made harder by not being able to see the shape of her poems on the page. In her earlier books, she's an exponent of the modernist tradition … poems with long lines, long gaps and no punctuation.

"When I was a starting out, I liked to create really complex poems, because that's what modernist poets do. I think poets change over the years and you write differently at different times.
"I've had to write and read essays, punctuate and know how things are spelled correctly, especially as an editor. But with poetry, I'm not bound by those conventions.
"That was a decision I took a long time ago and you can see it happening through the collections, there's less punctuation and more and more spacing. What it gives me is uncertainty … the ability to stretch the language. I can decide whether or not to join fragment one with fragment two. And I can do it differently every time."
She acknowledges poetry can be difficult for some when there's no 'traditional' punctuation. But she hopes there's something in the words that hook a person in.
"I don't care whether a person understands intellectually what's going on the first time they read it. That kind of absolute understanding comes after two or three readings. For me, a poem that's really working reaches out and grabs you because of something that's right there on the surface. It might be an amazing image or something in the rhythm, or something in the subject, something outrageous.
"It's the X-factor. The hook. And once the reader is giving you that kind of attention, they may look at what else there is in the poem that you want people to take notice of. That's when a poem starts to work in terms of the layers.
Loss of insight changes poems' form
It was actually the loss of her eyesight that precipitated the need to change the "shape" in which she wrote.
"From 2012 I learned, painfully, how to work with audio software. But I couldn't make the screen reader read the lines that didn't have punctuation because screen readers are set up for normative punctuation.
"It was driving me mad because I could write the poems, leaving the gaps in my mind's eye. But when I came to read them back, the screen reader wouldn't give me the pauses that were the white spaces. I couldn't remember what I'd done at line one or see whether it was the same length. If I had been a software engineer, I would have tweaked that programme.
"Then I thought, okay, I'll write prose poetry. It will still have the rhythms that I want, and the screen reader will be able to read it."
She says that kind of issue is what she finds most frustrating about not being able to see.
"What I dislike about being blind is the tendency it has to put you in a situation of deficit. If you load yourself up with too much deficit, you're not going to be very functional and you're probably not going to be a pleasant person.
"I was appalled that I couldn't find a way out of that corner the screen reader had put me into. But in the end it gave me a new way of writing – prose poetry."
Michele has a 0.5 workload and this year she is teaching a stage-three poetry-writing course and a postgraduate course called Opening the Archive. She's also researching the art and writing of Emily Cumming Harris. 
But you won't catch her 'dissecting' poetry with the class. "People like to say dissect and I say, 'dissection is usually dead bodies'. The metaphor is not a good one for poems. I call it close reading."
Even though recent poems are prose-like, rhythm is hugely important to her. Her poetry is renowned for its musicality.
"There's something very good about composing sentences by listening to them. I had to start doing it in 2012 when I finally had to stop magnifying the screen because it wasn't working any more. That switch into audio was one of the hardest things because I had to go right back to the beginning. I couldn't even open a Word file. It was devastating – I was teaching English and I couldn't edit. But you do it over and over and eventually, it starts to come.
"Then you realise how close writing poetry is to composing, where you're always listening for the music and putting words together because of the sound, not just the sense. In any culture in the world, if you go far enough back it's always been about a song. Think of nursery rhymes. There are the vestiges of it right there."
Is that why many poets adopt a sing-song voice when reading out loud?
"That happens. My voice will change when I start reading in public. I do hear it shift and I'm one of those poets who's quite happy for that to happen. I like that shift into the register that says, okay, 'this is poetry and you should listen up'."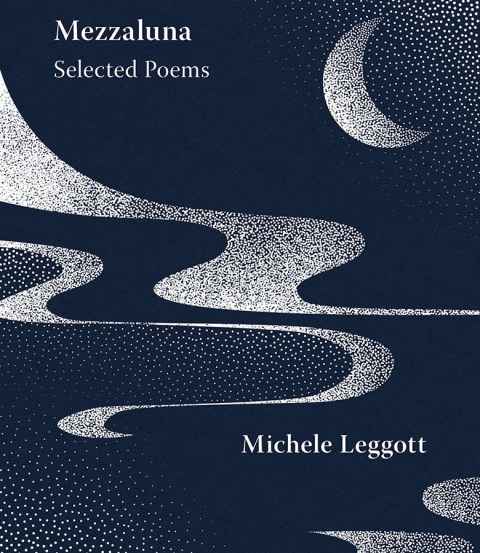 On Spotify: Listen to Michele read poems written in her 2009 Laureate year.