A professor's significant legacy
To celebrate a much-admired professor, University alumni and staff members rallied together over a few months to donate $136,000 for an endowed scholarship in his name.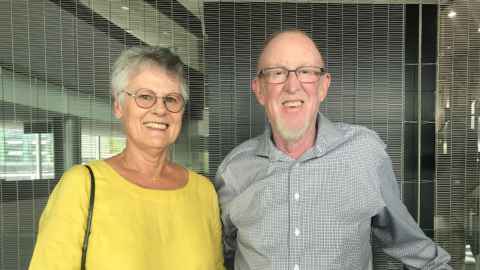 Emeritus Professor David Emanuel had such an impact on the students he taught, they gathered at the Business School 30 or 40 years after their last class with David, to celebrate the establishment of the scholarship.
Two past students who initiated the scholarship, Raphael Chin and Dr Alister Hunt, attended the event earlier this year, along with other past students and David's former colleagues from academia and practice.
The David M Emanuel Scholarship in Accounting & Finance marks David's substantial contribution to the University over a 46-year period, which will now continue for future generations.
David says he was humbled by everyone who contributed.
"I'm incredibly grateful, it's the best thing that's ever happened to me. Students from a long time ago have seen the value in creating this scholarship.
"They have been very generous. They are people who are friends and people who I admire."
David, who retired in 2017, was a distinguished researcher and published 70 articles over his career, along with six co-authored books. He served as the Accounting and Finance Head of Department for nine years and contributed strongly to the development of the accounting profession.
Former dean of the Business School, Professor Barry Spicer, said David had a "significant impact on education, business, and economic development in New Zealand".
The scholarship seeks to inspire a generation of accounting and finance graduate researchers through scholarship grants of up to $5,000 annually.  
In his speech at the event, Alister shared messages of thanks and appreciation from David's fellow former students and colleagues. Alister recalled the night before his masters thesis was due.
"It was the first time I'd ever drawn together a complex document and couldn't believe how many things could go wrong."
Alister phoned David, his thesis supervisor, "in the middle of the night" almost in tears. David's response was compassionate, calming and reassuring.
"Over the past few months I've come to realise that these stories of calmness, kindness and encouragement to solve problems together are a recurring theme in David's professional interactions."
Professor Jilnaught Wong says it was an honour working under David's leadership at the Business School.
"Professor Emanuel was a compassionate and empathetic leader. When our fragile egos were crushed by the unreasonably tough journal reviewers and when our pride was dented by the less than flattering course and lecturer evaluations, he was always there to counsel and offer valuable suggestions on how to improve."
If you would like to find out more about the David M Emanuel Scholarship in Accounting & Finance, or other ways you can support our students, please contact Anna Baird.