New TV special brings healthy lifestyle to older New Zealanders
Leading researchers and health professionals from across the country have come together to develop TVNZ One's new 'Healthy for Life' programme to keep our older people healthy, active and safe at home.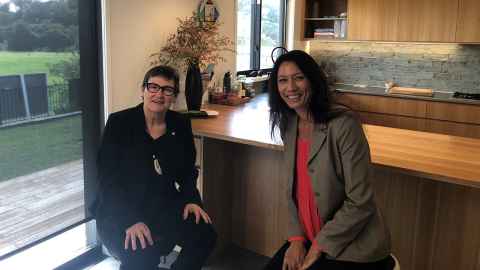 A project team of more than 20 collaborators with genuine concern for our most vulnerable members of society, have developed a unique solution to address the shortage of services and community based activities available for elderly people due to the Covid-19 pandemic.
Eight of the project team members are University of Auckland staff within the Faculty of Medical and Health Sciences: Associate Professor John Parsons, Professor Vanessa Burholt, Dr Kathy Peri and Erana Poulsen from the School of Nursing; Professor Ngaire Kerse and Dr Ruth Teh, School of Population Health; Professor Clare Wall, Discipline of Nutrition; and Dr Gary Cheung, Department of Psychological Medicine. They are working with collaborators from AUT, Massey and Otago Universities, Age Concern, Sport Canterbury, Waikato and Canterbury DHB's, ACC, HQSC, Health Promotion Agency and the Ministry of Health.
'Healthy for Life', hosted by TVNZ's Bernice Mene, will feature advice on health and wellness for older New Zealanders, including home safety, nutrition, sleep, brain and mental health and maintaining social links.
Remaining physically active in later life is critical to maintaining independence in activities of daily living and is a major contributor to overall health status amongst older people.
"We lose around three percent of our muscle mass per day when inactive and for those with borderline function, the impact of only a small reduction in muscle mass or fitness can increase morbidity and mortality. For frail older people with reduced function, the risk of falls and fractures is increased and their opportunities for recovery are significantly reduced," explains team leader Associate Professor John Parsons from the School of Nursing.
Tomorrowland, with more than a decade of experience in the production of physical activity television and online programmes, such as Les Mills workouts, has also produced 'Healthy for Life', promising the highest standard of production values.
The first 30 minute episode of 'Healthy for Life' will screen on TVNZ One at 9am from Saturday 2 May.