Te Kūaha Māori language app set to inspire te reo learners
The mahi has been done and on 6 May the University of Auckland's new te reo app, Te Kūaha, can be downloaded.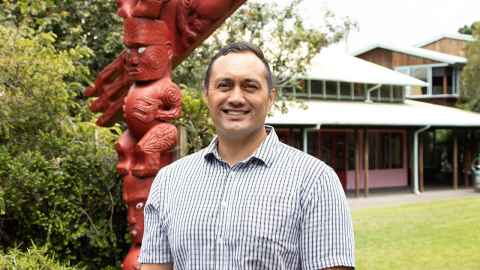 In April, the University launched its University Language Plan for the Revitalisation of te reo Māori.
Pro Vice-Chancellor Māori, Professor Cindy Kiro, told a Zoom meeting of staff that the Language Plan is "our plan and I'm asking your full commitment to achieving the three very ambitious goals in it" adding that "we have lots of tools to champion the work we are doing in te reo Māori".
One of those tools is the creation of a new free app called Te Kūaha (meaning 'the doorway'), launched on 6 May.
Te Kūaha has been five months in development but it's something Kaiarataki Michael Steedman, Deputy Pro Vice-Chancellor Māori, and Dr Andy Shenk, CEO of UniServices, have been thinking about for some time.
"It made sense for it to be implemented under the commitments within the new Language Plan," says Michael.
"Te Mātanga Reo, the University Māori Language Advisory Committee, provided content expertise for the customisation of the app. UniServices CEO Andy Shenk was very keen, so UniServices funded its purchase."
Andy says he'd personally wanted something that could assist his own language growth.
"I'd been pestering Geremy Hema (the UniServices Kaiārahi) to help me find an engaging way to learn the basics of te reo Māori pronunciation and protocol.
"I wanted to learn how I could appropriately and respectfully participate in welcoming and working with my Māori guests and colleagues.
"When I heard about the Māori Language Plan, I realised this was the perfect opportunity for UniServices to contribute the funding for the app so that everyone across the University could get the type of benefit I was seeking for myself."
Geremy says the app, "is a great storehouse of resources, the kind that so many in the University community have been enthusiastically seeking".
The app features pronunciation guides for every word and a syllable-by-syllable breakdown. All of the content is playable by audio, including the University and UniServices waiata being sung, and other popular waiata. There's also a pronunciation song of the sounds in the Māori language.
"What we're hoping is this will support staff and students to develop basic te reo skills. Our overarching goal with this whole plan is that, by 2040, 50 percent of staff will demonstrate a basic level of competency in te reo Māori."
We're hoping this will support staff and students to develop basic te reo skills. Our overarching goal is that, by 2040, 50 percent of staff will demonstrate a basic level of competency in te reo Māori.
In the more immediate future, it's hoped all existing staff will have participated in professional development for te reo Māori learning by 2024.

"And all new staff will be offered a course."

Staff and students alike are expected to be keen to use the app, which differs from the popular online Maori dictionary (maoridictionary.co.nz) in a number of ways.

"The app allows you to practise pronunciation, record and play back your attempts to pronounce words correctly," says Michael.

"It supports sentence-building and basic introductions, greetings, speeches, karakia and waiata, which are all customised for relevance to the University of Auckland and UniServices such as greetings for teaching staff to students, and academics introducing themselves or responding to greetings when in a meeting or conference.

"Staff new to New Zealand will likely find it useful as they come to grips with te reo Māori pronunciation and tikanga, particularly marae and pōwhiri protocol. It could also be useful to researchers at the University for its content about the tribes, tribal authorities and marae of the Auckland, Waikato and Te Tai Tokerau regions."

Project manager for the app's development, Liane Penney, says one feature people might like is to play the app's content as audio.

"You can Bluetooth your phone to your speakers or stereo and play the app in full or just parts of it."

That's something to do in the lunch break when working from home or pacing the streets.
- Denise Montgomery
This story first appeared in the May 2020 edition of the University of Auckland's UniNews magazine. 
Te Kūaha can be downloaded from the Google Play, Apple and Windows stores from 6 May. See auckland.ac.nz/te-kuaha for the download links. (NOTE: WILL GO LIVE 6 MAY.)
Read more: University Language Plan for the Revitalisation of te reo Māori (Te taonga nō tua whakarere, he taonga mō āpōpō/A treasure from ancient times, and for tomorrow) at auckland.ac.nz/revitalisation