Survey highlights University of Auckland success in raising entrepreneurs
Survival rates of businesses set up by University of Auckland graduates have been shown to be double the average – and those strengths are needed now more than ever. By Owen Poland.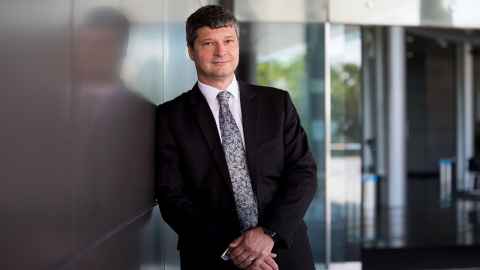 The critical role University of Auckland alumni play in bolstering the New Zealand economy has been revealed in a University of Auckland survey. The survey reinforces the University's vision to cement innovation and entrepreneurship as part of its DNA.
The results of the Alumni Innovation and Entrepreneurship Survey are impressive. Responses from more than 4,000 graduates dating back to 1940 have been extrapolated to show that 26 percent of alumni have founded an estimated 43,500 companies here and overseas and created approximately 383,000 jobs since the 1960s.
While the survey demonstrates the huge impact the University has on the economy, senior researcher and analyst Lise Eriksen says one of the most striking statistics is the survival rate of businesses after five years – more than double the national average. What's more, Lise says there's been a shift towards hi-tech businesses such as computer software developers and health and medical-related companies which have greater growth potential and help diversify the economy.
"That's really important and shows that our students are going out there and making a difference in New Zealand."
For Professor of Entrepreneurship Rod McNaughton, the alumni survey supports the value of students having an 'entrepreneurial mindset' when they graduate. While some are predisposed to thinking in an entrepreneurial way, Rod says it is possible to improve skills such as problem solving and value creation.
"The University's new graduate profile aims to develop innovators who are future and solution-focused, creative and capable of developing unique and sustainable solutions to real-world problems. The way of thinking and the capabilities associated with entrepreneurs are increasingly recognised as important, no matter what a graduate's career path."
Interestingly, 34 percent of the alumni entrepreneurs fit the description of 'serial entrepreneurs', those who have founded two or more companies during their careers.
"It is clearly significant because serial entrepreneurs will tend to have, over time, a greater impact on the economy in terms of employment and revenue generation," says Lise.
On the score of gender, 41 percent of the alumni entrepreneurs in the survey are women where Lise says there's a lot of untapped entrepreneurial potential, something the University is looking to address. In fact, the University of Auckland now has more females than males participating in the extracurricular programmes offered by the Centre for Innovation and Entrepreneurship.
Alumnae also featured in a 2019 report by UK business banking app Tide, which found that New Zealand has the world's highest percentage (13.4 percent) of female start-up founder graduates. The ranking was based on capital-raising data sourced from Crunchbase, and among the prominent alumni identified by Tide were Elizabeth Iorns, co-founder of Science Exchange ($112.6m capital raised) and Jen Lim, co-founder of Shopmatic ($8.8m capital raised).
In addition to a growing number of courses that signpost the importance of innovation and entrepreneurship, extracurricular activities play a crucial role. The Velocity entrepreneurship programme, formerly Spark, has attracted more than 15,000 students since 2003. Ventures started by alumni through Velocity have raised over $258m in capital.
Situated in the Unleash Space innovation hub, the VentureLab incubator, launched by the Centre for Innovation and Entrepreneurship (CIE) in 2018 and funded by philanthropy, adds to the mix by giving students the space, expertise and resources to fully ignite their ideas.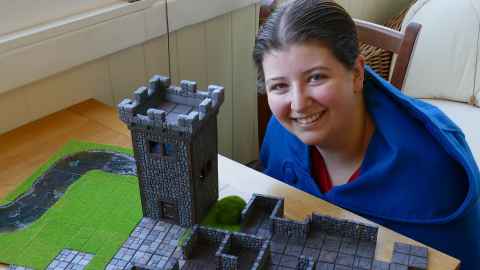 It just felt right. If I have the ability to do something to
help vulnerable people in times like these, then how can I not?
Forced to suspend her PhD in Science after a serious motor accident, Annabelle Collins is forever grateful for her time in the Summer Lab student entrepreneurship programme, which she says changed her way of thinking.
A fan of role-playing game Dungeons and Dragons, Annabelle had the idea of creating reversible terrain tiles to enhance the experience of players. Within a matter of hours, the Creative Technologists (CTs) in the Unleash Space had taught her how to use a 3D printer to create a prototype for her new business, Modular Realms.
"What I love is that the CTs there have wildly different skill sets, so I got so many different perspectives on my project," she says.
Like most businesses, her fledgling enterprise came to a halt because of Covid-19. With the shortage of personal protective equipment (PPE) in the UK, where a number of her 3D printers that print the tiles are based, she put her plans on hold and dedicated those machines to producing PPE. "It just felt right. If I have the ability to do something to help vulnerable people in times like these, then how can I not?"
Annabelle, a former chemistry student, was familiar with PPE but not its design. "I did a lot of research on materials and their ability to filter out different particles, and kept up to date with new PPE being designed to deal with this crisis."
She eventually decided to print the Prusa Face Shield, widely accepted by hospitals around the world. She also took on a role for New Zealand, communicating with everyone from surgeons to vets and rest-home staff, acting as the go-between for them and hobbyist manufacturers like herself.
"I met some really incredible and inspirational people by doing this," she says. "I never saw myself as someone qualified to be speaking to surgeons or hospital staff about PPE manufacturing and distribution."
Having learned a lot, she's now refocusing on her original venture, Modular Realms, and the Kickstarter campaign to raise capital for injection moulding was funded in several hours.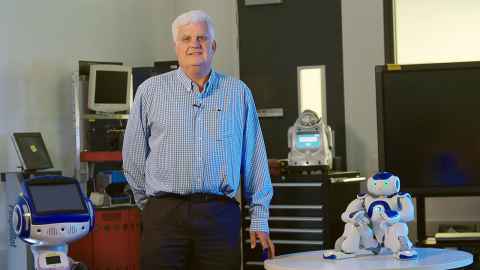 It's really important that we continue to demonstrate we can turn that fundamental research into new high-margin, high-quality products, services and jobs.
Back in Unleash Space, the team continues to innovate despite physical closure. The CIE announced additional prizes for its annual Velocity Innovation Challenge, focused on Covid-19. The Challenge asked entrants to tackle problems the pandemic has presented, with a $1,000 prize for the best solution to a social challenge and $1,000 for the best solution to an economic challenge. The social challenge prize went to a digital learning platform called CircleOut, and the commercial innovation prize to RosterLab, which creates high-quality rosters for hospitals using AI. (See all the winning ideas.)
It is initiatives like these that impress North American entrepreneur and educator Peter Rachor, appointed as the Hynds Entrepreneurial Teaching Fellow in 2019. His role is to integrate innovation and entrepreneurship concepts into curricula across the entire Auckland campus.

"Anything from dating apps to climate change," he says. "It's about how can you effect change, how you can create a new product or company, how can you make an improvement, or a new social movement from what you've learnt."

The goal by 2025 is to have 10 percent of all students leave with a meaningful entrepreneurship experience.
"Ultimately, we want to identify and support students who can do something more scalable and drive the creation of new opportunities and ventures."

International recognition as the inaugural Asia-Pacific Entrepreneurial University of the Year in 2020 confirms that Auckland is on the right track and Rod says part of that success comes down to Auckland having a "first-mover advantage" through entities such as UniServices. Founded in 1988, the University's research and knowledge-transfer company has chalked up many high-profile successes including HaloIPT, Soul Machines and PowerbyProxi. Its executive director of commercialisation, Will Charles, says 2019 was a record year for idea disclosures, company formations and patent licensing.

"It's really important that we continue to demonstrate we can turn that fundamental research into new high-margin, high-quality products, services and jobs."

Receiving a Kiwinet Commercialisation Professional Award in 2019 was due recognition for Will, who says the secret is to act like a dedicated and sympathetic investor – something made possible with initiatives like the $20 million University of Auckland Inventors' Fund.

"That's been one of the key drivers of success because we have an alignment of interests with investors and understand what they want, while at the same time understand the needs and pressures on academic staff and their students. As an investor, we also know that the key to success is to provide our inventors with the right incentives, assistance and environment to succeed."

Having preferential access to about $400m in capital through relationships with the British-based intellectual property company IP Group plc and Australia's Brandon Capital Partners also means Will can "shake the tree harder" and further promote innovation and entrepreneurship.
And, it seems, opportunities abound. A recent survey revealed that 7 percent of the University's students already run their own businesses – albeit often to pay for their education, and they don't plan to continue when they graduate. Rod says this could change.
"We are looking at ways to help these businesses grow and scale, and create opportunities for these students to integrate their business experiences with their studies."
Will says the future focus needs to be on building human capability in the next generation of PhD and masters students to get them thinking not so much about how to get a good job but "how many jobs can I create?"
He says commercialisation of research becomes scalable if we can "unleash an army" of postgraduate students who are able to take their ideas and knowledge into new products and services at some stage in their careers. He says creating an 'entrepreneurial ecosystem' is a journey, but all the signals are there that we are poised for exponential growth in the next ten to 15 years, despite Covid-19.
"The University will be seen as having been transformational in the economy."
Exactly what's needed right now.