Pianist Jason Bae changes his focus
In the CD section of the Warehouse at Whangaparāoa, musician Jason Bae found inspiration. Now he performs around the world. Well, he used to.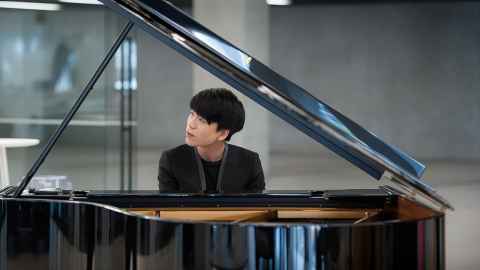 South Korean-born New Zealand pianist and conductor Jason Bae went from travelling intercontinentally twice a month for three years to sitting alone in an Auckland apartment for seven weeks.

"I arrived with one bag of luggage. I was only going to be here for two weeks, then was due in Sweden and Turkey before my new role at the University in Semester One."

Jason was set to teach the School of Music's piano performance students and run its performance classes, and was excited to return to his alma mater. "The University had also asked me to lead the rehearsals for the School's graduation gala, but that was cancelled, too."

On top of that, the maestro pianist was set to become a conductor in the NZ Symphony Orchestra (NZSO) Fellowship Programme.

Jason is philosophical about it.

"Within 36 hours of arriving, which I did the day before New Zealand closed its border to flights from Korea, I cancelled all my events and decided to stay here for a year," he says. "Amazingly, I got an apartment the next day."

John Eady, from Lewis Eady Ltd, offered Jason the use of a digital keyboard for lockdown.

"So, I was able to keep teaching my University students via Zoom. It's a good time for me to focus on young people at the University, but I'll also be trying to learn as much as I can with the professional musicians here such as in the NZSO. I'm particularly excited to be under the guidance of its music director, Hamish McKeich."
I was determined to get an outside view as well as being nurtured here. To be an expressive artist, you have to learn from others.
Jason had kept his passion for becoming a conductor in his heart for a long time, even while doing his masters in piano at the Royal Academy in London. The idea was sparked in him as a 16-year-old.

"I'd been watching conductor James Judd at the NZSO and then Finnish conductor Pietari Inkinen arrived. He was 28, which is my age now.
"I was amazed how much difference another person on the podium could make. The NZSO sounded completely different. So that was a magical moment for me. I got hooked immediately – I remember his charisma, his leadership and especially his musicianship."
Even so, he made a decision to continue with his piano studies in London.
"I didn't want to be a conductor who hasn't mastered his instrument. I wasn't happy with my playing then and knew I needed a few more ingredients from different cultures and experiences."

He graduated with the highest mark in his masters class and, during his final lesson, told his professor, Christopher Elton, that he wanted to become a conductor. "He said, 'Jason, I always knew you would be'. It was very touching, knowing he still trained me to be a top-level international pianist. I'm so grateful for that."

Jason says recent changes at the School of Music seem to be moving it away from the conservatory model and broadening students' minds.
"They will be more knowledgeable than me when I was a student. I had to seek out inspiration from the Warehouse in Whangaparāoa. I bought all the CDs with piano music on them. Everything was $1 – a bargain! That was my inspiration."

Jason says students are likely to be stressed after Semester One and the fact they couldn't enter competitions, travel or practise in ensembles.

"When I studied here, I didn't miss any classes and I put in extra effort to go to international competitions. I was determined to get an outside view as well as being nurtured here. To be an expressive artist, you have to learn from others.

"I'm trying to get inside New Zealand students' minds and make them think about that. If I get the chance in Semester Two, I'll say, 'so that was Semester One in an extraordinary circumstance, what can we achieve from July?' That could be a good focus."
- Denise Montgomery