Sophie van Waardenberg: sonnets and squirrels
Sophie van Waardenberg reflects on the early months of her Master of Fine Arts in Creative Writing, in lockdown in the United States.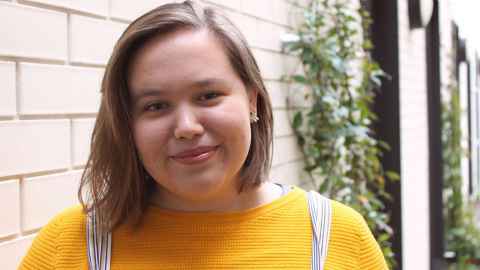 In 2019, a few months after I'd completed my BA (Hons) in English and History at the University of Auckland, I moved to the United States to begin a three-year Master of Fine Arts in Creative Writing at Syracuse University.

Syracuse is a city in upstate New York, around the size of Hamilton, a little bit like Hamilton, even, but with snowdrifts and groundhogs and diners, and I spend my days here writing poetry, reading a whole lot, and attempting to source good coffee. It's an embarrassingly good life.

I'm on a generous fellowship offered to everyone in the MFA programme, and I've been lucky in myriad ways with the creative writing programme here, but what really gives this degree its worth is the face-to-face, shorthand critique and support from the other writers and classmates we've grown to know so well.
Through the period of non-contact learning, we tried to preserve that experience – video calling, sharing of materials online, chat boxes, incessant emails – but there's only so much a community can do to survive and to offer comfort when physical interaction is off limits. The 30 of us across the three years of the degree were used to sitting in ergonomic swivel chairs next to each other every day in fluorescent classrooms.
But next, like so many students and faculty across the world, we wouldn't be back on campus for a long while, and those squinty classrooms took on a dreamy haze.

It was also a lonely experience being so far from home at a time like this. I'm incredibly fortunate to have a safe and comfortable place to live, where I can go about my quiet life quite easily, but at times I feel as though I'd give my last cup of flour to be at home in Auckland with the people I love, or to be in New York City where my partner is cooped up away from the chaos.

For now, though, I'm writing claustrophobic sonnets, photographing squirrels and looking forward to some day in the future, maybe a warm one, when I can sit on the stoop and have a terrible cheap beer with my friends.
How is everything going? I hope you are well
how is everything going? I hope you are well. I have tidied
just for you my bedroom, polished the leaves,
and the squirrels are wriggling. let me play you a song.
hear it? I can't either. I'm sorry. the internet
is tired, and nobody's dying, except the people who are dying.
the long stems of the nameless flowers I bought you
are green in a rude way. I press a petal to my cheek, and I think:
it's as soft as a girl. this is not at all like we had planned.
I've cancelled the flights. I've frozen the bread. we're all all alone.
this is not the worst we will ever feel. this is not the deepest loss
but come when you can, darling, or love, or partner,
or emergency contact.
– Sophie van Waardenberg
Sophie van Waardenberg is a recent graduate of University of Auckland with a BA (Hons) in English and History. She was published in Auckland University's Press's New Voices 6 in 2019. 
This item first appeared in Ingenio Winter 2020.