Research to lift outcomes for more than one in 10 NZ births gains funding
Liggins researcher awarded $1.4m to investigate treatment for mothers with planned caesareans.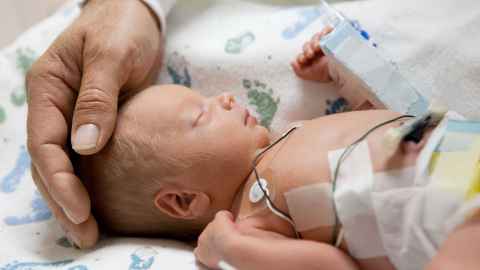 Researchers at the University are about to undertake the largest-ever trial of corticosteroids in women having planned caesareans, to assess the treatment's benefit and potential harm in new-borns.
Associate Professor Katie Groom from the University of Auckland's Liggins Institute has been awarded $1.4 million today by the Health Research Council of New Zealand (HRC) to lead a nationwide placebo-controlled, randomised trial into the effects of maternal corticosteroid use prior to planned caesarean at between 35 to 39 weeks.
She says the trial will address a serious evidence gap and will reliably inform future practice across New Zealand and globally. In New Zealand, birth by planned caesarean section continues to rise and now accounts for more than one in 10 births (7,500 babies a year). To counter the increased risk of breathing problems that can occur with planned caesareans, mums are often given corticosteroids at near to full-term stages of pregnancy; however, there is surprisingly little known about the benefits or harm of this fairly common practice.
While corticosteroids administered in earlier stages of pregnancy have well-established benefits for babies born prematurely, there is limited evidence for their use at near or full-term, says Associate Professor Groom, "There is low-quality evidence on respiratory benefits, minimal evidence on long-term effects, and no evidence of their effect on blood-sugar levels.
"The steroids might help babies with breathing, but they might also disrupt glucose control, which could be detrimental in the long-term, so our trial will look at the balance of benefit versus potential harm."
She says high-quality evidence is required to allow women with planned caesareans to make informed decisions about their treatments.The C*STEROID Trial will take place in at least 14 hospitals across New Zealand and include 2548 babies and their mothers. 
"This will be a national effort to answer an important question. Findings aim to definitive and will inform clinical practice in New Zealand and across the world," she says.
Another benefit of the trial will be the opportunity to follow-up a cohort of the children when they reach the age of six or seven so they can be assessed for long-term impacts, such as childhood executive function, body size, and respiratory, cardiovascular and metabolic wellbeing.
Associate Professor Groom is currently looking for candidates for the  C*STEROID Trial.