The sleeping virus people may not know they have
Ahead of World Hepatitis Day on 28 July, Professor Tim Dare talks about the gratitude he feels to Professor Ed Gane, and why they're teaming up.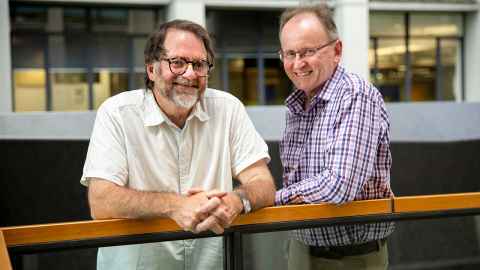 In the past few months we've seen how effective a campaign can be to almost eliminate a virus from a country.

But there's another virus that's been silently affecting the health of around 50,000 New Zealanders and 50 percent of them don't even know it. Not only that, but there's a simple and effective cure.

Professor Tim Dare is keen to talk about that virus – Hepatitis C. He's not a medical doctor, but a former lawyer and ethicist who teaches philosophy at the University. He had Hepatitis C (Hep C) but is now cured thanks to Adjunct Professor in Medicine Ed Gane.

For many years, Ed supervised drug trials on Kiwi volunteers with chronic Hepatitis C. He trialled various combinations of different antivirals from North American biotech companies until he finally got the results he was looking for – a tablet that could cure more than 95 percent of patients without side effects after only 12 weeks. The successful combination was picked up and developed by global drug companies and is now mainstream. Last year almost 5 million people were cured with this treatment, most of whom were in low-income countries and treated with WHO-approved generic versions.

Hepatitis C is a blood-borne disease that causes inflammation of the liver. Left untreated, up to 25 percent of infected people will develop cirrhosis which can then progress to liver cancer or liver failure.

"Everyone with Hepatitis C will eventually develop scarring of the liver and a good proportion will develop cirrhosis, which is severe scarring," says Ed, chief hepatologist and deputy director of the NZ Liver Transplant Unit, which he set up in 1998 at Auckland City Hospital.

"The biggest incidence of Hep C infection was in the 70s and 80s when recreational drug use was popular so there's a large group of people now entering their 50s and 60s," he says. "That means we're starting to see people requiring liver transplants or who have been diagnosed with liver cancer from Hep C. But that is an issue we can prevent."

Tim is one of the people who has benefited from Ed's expertise.

"I suspect, like lots of people, I probably had Hep C for 20 years before I knew," says Tim. "It's an insidious sort of disease. It's nagging away at your liver all the time you've got it."

A blood test confirmed it before the damage could have led to a liver transplant.

Doctor Ed and patient Tim, in his capacity as ethics adviser, are among those now working with the Government on a National Hep C Action Plan. The treatment, a direct-acting antiviral drug called Maviret, is already funded by Pharmac and is a tablet taken every day for eight weeks. It is well tolerated, unlike toxic treatments of days gone by such as Interferon that may have put people off being treated. The action plan is to make people aware of Hepatitis C, get tested and then have their GPs treat them with Maviret.

Soon after Maviret became available, more than 500 people a month were starting treatment, most through their GP. But numbers have declined dramatically because of the low uptake of testing.
This is the first infectious disease, where you've gone from discovery to cure
within a quarter of a century.
Hepatitis C was only identified in 1989 and can be transmitted through blood transfusions, tattoos or recreational drug use. Both Tim and Ed want the action plan to take a 'no-questions-asked' approach with patients, because of the stigma involved with past recreational drug use.

In 2016, the New Zealand Government was one of the 194 countries who signed a commitment to the WHO to eliminate viral Hepatitis C as a public health threat by 2030.

Ed thinks New Zealand can do it sooner if we set up a testing programme to diagnose those infected and a registry that ensures that once people are diagnosed, they are linked to treatment, which can be through their GP or other community providers.

"I think we could do it by 2025," he says. "The benefit of this is it is a one-treatment drug and the registry wouldn't need to be a lifetime registry, just five or ten years and then the problem would be solved."

A major problem is the lack of awareness and a degree of discrimination against people with Hepatitis C.
"We need to remove the barriers to testing … which is both that lack of awareness and stigmatisation," says Tim. "Many people feel uncomfortable telling colleagues they have Hepatitis C, or having it become known. What we need to convey is 'this happens to people. To good people. It's not something people should feel ashamed about'."

Ed says there are big cost benefits from an eight-week course of tablets compared to a liver transplant, shown in data from overseas.

"Countries like Germany and France have seen a 50 percent reduction in the need for liver transplants caused by Hepatitis C, within five years. Here in New Zealand, this could have an enormous impact, not only in reducing the demand for treatment for Hepatitis C, but because it will increase the number of livers available for everyone else needing a transplant for other reasons."

He says people who have Hepatitis C and don't know it may have a host of symptoms they haven't connected to the virus.

"When you have Hepatitis C in your blood, you're making lots of inflammatory proteins we call cytokines, which are fighting the Hepatitis C. It's a bit like having an active cold or influenza. As soon as that infection stops, those cytokines disappear, and people instantly feel better.

"They can feel better in a whole variety of ways – more energy, better mood, reduction in myalgias and sore joints and, most importantly, it prevents them getting a life-threatening complication in the future."

Ed is advocating a national testing programme for every adult. Past programmes, in the US for example, only tested the 'Woodstock era' but this failed to identify most patients.
"In May, the US Centre for Disease Control decided to introduce universal testing for all adults in the US," says Ed. "This approach has already been enormously successful in France."

He says a pin-prick test can just happen in a pharmacy. There was a recent pilot trial run by Dr Natalie Gauld, who has honorary appointments in the Department of Paediatrics and the School of Pharmacy, for the Waitemata DHB. The pilot saw ten west and north Auckland pharmacies raising awareness of Hepatitis C and screening people for it, then providing follow-ups and GP referrals for anyone testing positive.

Natalie says the pilot scheme went well, and the results should be published shortly.

"Studies show that testing in a pharmacy identifies people with Hepatitis C who have not yet been diagnosed and they're subsequently treated, which is an excellent outcome.

"What's good about doing it this way, is that people don't need an appointment, it's relatively anonymous and also free which reduces barriers. I'd like to see it rolled out further with even more involvement from pharmacists."
Hepatitis C happens to people. To good people. It's not something to feel ashamed about.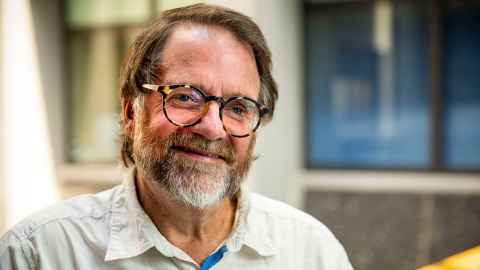 Ed says the development of molecular virology as a discipline has led to huge advances in our approach to the diagnosis and management of infectious diseases.
"Once you understand the virus and its lifecycle, then you can identify targets with small molecules to block that target … it's extraordinarily accelerated today compared to what it was even ten years ago."

It's that kind of virology work that will be going on right now behind the scenes around the world to target Covid-19.

Other viruses in the Hepatitis family, A and E for example, are still fairly prevalent but do not result in chronic infection. Hepatitis B is a persistent virus that causes chronic infection but there's a vaccine for it. "There's Hepatitis A to E actually, but A and E are very similar," explains Ed.

"You get them from contaminated water and foodstuffs. There are certain countries where they're endemic, especially the Indian subcontinent and parts of Asia, occasionally southern China. It stems from a lack of clean water and poor hygiene. So, you get outbreaks and people get sick and then they get better. They don't get cirrhosis because the virus has come and gone within a few weeks."

It's the C version Ed is focusing on, with the cure so effective he calls it 'the end of the line for Hepatitis C treatment'. "This is the first infectious disease, where you've gone from discovery to cure within a quarter of a century."

There are about 1,000 new cases in Aotearoa each year and it's spread through blood-to-blood contact.

Ed says it doesn't matter how much damage has already been done to the liver, everyone should be treated.

"Many countries, because of the cost, say you're only allowed to treat people with cirrhosis. But by treating people with early disease, you prevent them from developing cirrhosis which then completely removes the risk of getting complications and the need for a transplant," he says. "Now we would treat everyone, even the sickest people who are referred for a liver transplant. If you eradicate the virus, the liver can get better."

A Green Paper presented to the Minister of Health in October 2018 emphasised the importance of developing a national plan for viral hepatitis with national targets. Australia is now up to its fifth plan, including a goal to eliminate the negative impact of stigma and discrimination on people's health.

In New Zealand, some populations are affected more than others by disability and ill health, particularly Māori, and those living in areas of high socioeconomic deprivation. The paper said resources are needed to ensure those groups are assisted to achieve the WHO 2030 goal, with dedicated campaigns. World Hepatitis Day is on 28 July and the theme is Find the Missing Millions. That's a reference to the millions of people around the world who are living with some form of Hepatitis but don't know it.

Tim says despite the Ministry of Health's focus on Covid-19 in recent months, a screening programme for Hepatitis C is both life-saving and cost-saving and shouldn't be forgotten.

"The screening programme and the registry are likely to be expensive, and the registry is potentially intrusive so we need to work out the ethics around that," says Tim. "Yes, there are other pressures on the Minister but we're making the case that this is a worthwhile place to put in effort and resources.

"People like me, whose liver showed scarring and were on the road to a serious situation, now have scans to show the scarring has completely melted away."

"In the first year since Pharmac started funding this drug, we've treated 3,500 people," says Ed. "GPs have treated all the people they know about and the hospital treated all the people they know about. But we need to find the rest of them – we know they're out there."
– Denise Montgomery
Take the test
If you think you could have Hepatitis C, or any type, call the Hepatitis Foundation 0800 33 20 10 or email: hepteam@hfnz.nz. Or ask your doctor for a blood test.
This article first appeared in the July 2020 edition of UniNews.