Selina Tusitala Marsh's Mophead memoir makes an impact
Poet Selina Tusitala Marsh's first book for children, a graphic memoir, is a finalist in the NZ Book Awards for children and young adults.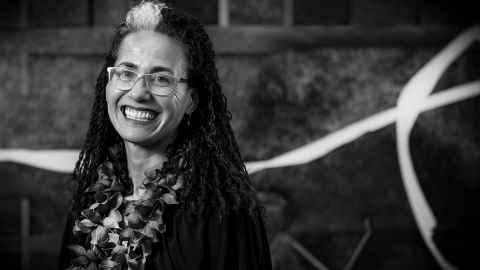 A little Polynesian boy sits barefoot in his foster home, a lavalava draped over his head. He is reading a book by torchlight. The book is called Mophead, and has been given to him by his Pākehā foster carer.
His carer writes to the book's author, Associate Professor Selina Tusitala Marsh, about the nine-year-old's love of her story and illustrations.
"She wrote, 'First of all, we do have carpet at our house so I'm just letting you know he just prefers to sit on the wooden floor," says Selina, of the letter. "'Second, he has read and reread Mophead so many times. I haven't seen him respond to a book like this. He loves it'.
"That really touched me, because he is a little boy who's obviously going through a tough time, but also he has the most beautiful caregiver who is actively putting culturally relevant material in front of him. I was just so moved by that."
There have been funny responses to the book too. One woman made cookies in the shape of Mophead. "She Instagrammed her child's lunchbox and it got so many shares!"
Mophead: How Your Difference Makes a Difference (Auckland University Press, 2019) is a finalist in the New Zealand Book Awards for Children and Young Adults on 12 August. It's up for the Elsie Locke Award for Non-Fiction, alongside Kuwi & Friends Māori Picture Dictionary, Te Tiriti o Waitangi, The Adventures of Tupaia by University of Auckland alumna Courtney Sina Meredith and Three Kiwi Tales by former University of Auckland staff member Janet Hunt.

"I'm stoked," says Selina. "I call it a graphic mini-memoir so yes it's true, but it's a true story well told. I'm just floored that it's up there with the big contenders in the field. I've never written a book for kids before."
She knows well the impact a book and its writer can have on a young mind. Mophead, which depicts Selina as a young child often cruelly teased for her unruly hair, shows her change of mindset after poet Sam Hunt visits her school. He has wild hair and wild words, and couldn't care less about the fact he looked and sounded 'different'. Selina stopped hiding her hair in a bun and started celebrating her difference.
The celebrations have continued throughout her life. As the first person of Pacific descent to graduate with a PhD in English from the University of Auckland, she later became New Zealand's Poet Laureate from 2017-2019, the first Pasifika person to fill the role. In 2019, she was made an Officer of the NZ Order of Merit for services to poetry, literature and the Pacific community and this year she was made a Fellow of the New Zealand Royal Society. As well as her published collections of poetry – Fast Talking PI, Dark Sparring and Tightrope – her work has been published in more than 70 national and international anthologies, books and literary journals and websites.
But Mophead came about almost by accident although Selina says the story was 'always in her', as you might expect from her name 'Tusitala' which means 'writer of stories' in Samoan.
"As a kid I used to draw my own pictures and write my own stories, but because I was such a perfectionist, I'd never finish anything. I was at the AUP office discussing a 60,000 word memoir about my tenure as New Zealand Poet Laureate. I'd been mucking around with the Mophead drawings on my iPad and actually had an entire book storyboarded. Just as I was about to leave, I paused at the doorway, swung around and said 'Oh, by the way, I've got this other thing'.
AUP's Sam Elworthy recognised a story that reflected the zeitgeist of the nation. Selina had gone from being called Mophead at school to being awarded New Zealand's highest poetry award.
"As part of the laureateship, I was given a tokotoko, a traditional Māori carved ceremonial walking stick reflecting my poetic identity. The top part is a fu'e, a Samoan talking chief's ritual flywhisk with a head made of long coconut fibres. It looks a bit like a mop at the top … and that's created this beautiful visual and narrative arc."
But not everyone understood the significance of what Selina represents. On her final night as Poet Laureate in 2019, she was returning to her hotel in Wellington after attending an emotional ceremony celebrating her achievements. She was clutching her tokotoko and heading to her room, reflecting on a wonderful evening, when a group of half-cut businessmen tried to tarnish the memory of that special night forever.
"I had just handed over the Laureate title at the National Library. I was wearing a formal fuchsia and orange Pasifika dress. I'd just been walking through parliament grounds thinking to myself 'what next?'. As I walked through the hotel doors, the men turned towards me. One of them calls out 'oh look it's the cleaner' implying my tokotoko was a mop. His mates were all laughing.
"It brought me emotionally full circle to the little girl in the Mophead story. But this time, I had a voice. I'd just been celebrated as this national figure. But these ignoramuses attempted to exert control over what they could not understand. In putting me down, they tried to define and control what was clearly outside their narrow gender and race boxes."
As an example of racism, it's typical of what lies not far beneath the surface in New Zealand society, she says. "Living in the diaspora as a Pacific Islander, or someone of Pacific Island descent, aside from the usual entrenched systemic racism prevalent in a post-colonial society, the racism I often encounter comes in the form of microaggressions. It's those 1,000 paper cuts. The daily acts of discrimination in throwaway remarks or 'jokes'.
"When you live in a brown, female body exuding its own mana, it can be confronting to a conservative patriarchal Pākehā society, especially a stone's throw away from the Beehive when they're in a swarm of their own male Pākehā corporate hive of conformity. Difference needs to be defined, so it can be controlled, so it can be consumed. As those businessmen, who were 'just joking', tried to do with their country's first Pasifika Poet Laureate."
Selina says she has used the Wellington incident at keynote speaking events in order to "story my way to empowerment". She says for the most part her tenure as Poet Laureate had been wonderful and she presented Aotearoa New Zealand as a place that celebrates diversity.
When you live in a brown, female body exuding its own mana, it can be confronting to a conservative patriarchal Pākehā society, especially a stone's throw away from the Beehive...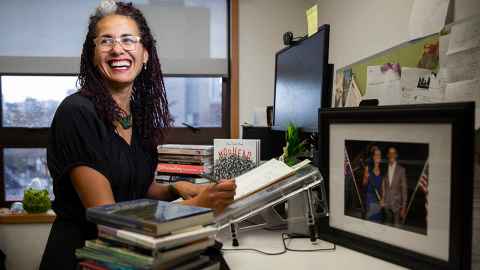 Like the person who sparked her self-confidence, Sam Hunt, Selina comes alive when performing her poetry and is in big demand from schools where children are enthralled by her style and passion.
During levels one to four, she's kept match-fit for such performances in her usual way, running all over Waiheke Island where she lives. Also, like Sam, there's a dog by her side, recently rescued from a shelter and now loving life.
"Lockdown was marvellous for me as a writer. Yes, I had several big international festivals that were cancelled and a potential fellowship in a 13th-century Italian castle. I was also meant to go overseas in October to Ubud and Bangalore. But it's given me so much more time to 'make'.

"In terms of the demand for me to speak at schools, previously I could never get through all the requests. In two weeks of level one, I was able to visit seven schools by Zoom all over the country. I don't actually have to be there in person."

For someone whose style of presentation is very physical, how does that work on Zoom?

"I'm finding other ways to create that energy and create a new kind of dynamic between myself and the students."

She's had a bit of experience doing that round home over the years too, being the mother of three boys, the youngest of whom is in his final year at college, but none of whom have shown much interest in poetry.

"I'm one of the writers in schools with Te Pou Muramura (Read New Zealand, formerly the New Zealand Book Council). Te Pou Muramura Zoomed writers into schools during lockdown as levels permitted. It's now a viable way for writers and students to engage. I simply can't get to all the schools with my full-time job at uni and other Pacific leadership work I do. This way works."
She's also putting the finishing touches on Mophead Tu: The Queen's Poem, in which she recounts the rules she had to abide by in her commissioned poem for the Queen as part of Commonwealth Observance Day. As she did for the first Mophead, she's doing the drawings through an iPad app which she's been learning as she goes, trialling different techniques.
"I've got to redraw things repeatedly to create space on the page because, as in poetry, less is more. Space on the page is like breath in the poem. I've got to declutter the pages and take it back again to its primary message. I've described Mophead Tu (where Tu plays on two, and means 'to stand' in many Polynesian languages) as 'colonialism 101 for kids'. It's about being politically, economically and culturally bullied, and the resilience and empowerment offered by creativity. The pictures do so much clever work because the story is everything. If you engage with readers' hearts, its subversive message needn't be told didactically. Mophead's sassy attitude, her unruly hair, enables people to care about the bigger issues."
Her main 'adult' project is by no means on the back-burner. It's the stories of 16 Pacific women poets who are the first to publish their own collections, from 16 Pacific Islands. Selina needs to take theory-driven 10,000-word chapters from her PhD thesis and distil them into 4,000 word chapters for a book.
"I feel a responsibility and obligation to bring their stories to the broadest readership possible."
But there's also another curly subversion being unfurled – with plans for a third book. Selina acknowledges the power of print in conveying messages to children of all ages.
"I love how graphic storytelling touches different tiers in New Zealand society, whereas my academic research would tend to only reach my peers here and overseas. But when you get into the schools and you also appeal to caregivers and grandparents and people who, for whatever reason, feel shut out of academia or education, barriers are broken. It's incredible."
– Denise Montgomery
This story first appeared in the August 2020 issue of UniNews.