Shaun Hendy and Covid-19: this year's model
Professor Shaun Hendy's data-modelling skills helped shape New Zealand's Covid-19 response.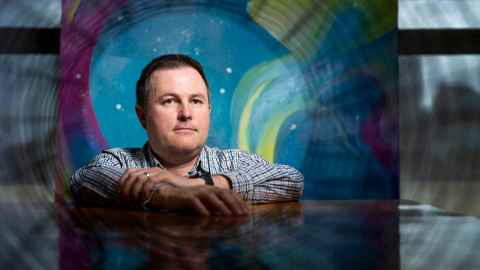 The first Friday afternoon into the lockdown, Professor Shaun Hendy was cracking a beer for Zoom drinks with his Physics colleagues when he noticed an email land in his inbox.

"I was sitting at my garden table and an email arrived on my laptop. It was from the National Crisis Management Centre. I'd been corresponding with them all week about the Covid-19 modelling work we'd been doing, so I didn't think it would be that urgent and thought 'I'll read that later'."

In fact, he left it until the next day. That was when he found out the police were after him.
Sort of.

"The police, who were staffing the Crisis Management Centre, were using their emergency powers to bring our modelling work for Covid-19 into the official response," says Shaun.
"The email came with a letter from the Prime Minister and was addressed to me and a manager at Statistics New Zealand, Vince Galvin. We were both surprised. We were now required to provide modelling updates to the National Crisis Management Centre every day by 9am."
But Shaun had anticipated daily modelling would be needed to track numbers and scenarios.

"I'd already arranged something with Orion Health, who the University has a partnership with, because I know that researchers aren't the best at getting up at the crack of dawn each and every day to deliver progress updates. So we provided the data and the code, and Orion did the hard work of translating that into a daily report."
Before long, Shaun, who is director of the multi-disciplinary Te Pūnaha Matatini, the Aotearoa New Zealand Centre of Research Excellence for Complex Systems, was thrust into the media spotlight.

"I've done a bit of work in infectious disease as we have a number of people in Te Pūnaha Matatini, but at the outset we certainly didn't see ourselves as core to what was going on. Nonetheless, we were drawn in quite quickly.
"It became clear New Zealand didn't have pandemic models ready that were appropriate for the circumstances here. So that's what we set out to develop."
Shaun says he soon realised the significance of what he was doing.
"The pressure came on with the very first paper. We were talking about tens of thousands of deaths potentially. I was asked to go on Breakfast TV to explain our findings to the general public. It left me shaking. I've done a lot of TV, but it was the first time I'd had to say something with such big consequences."
There's been a sense of responsibility but everybody's felt really privileged to have been part of the effort.
Shaun wasn't doing the modelling alone. There was a team of around 20 people working on it at Te Pūnaha Matatini, including students who'd had finished their degrees but couldn't start new roles because of the lockdown. Most of the work was done collaboratively from home, although "one parent was able to get support to come into the University to get some peace to do their work!"
"There's been a sense of responsibility but everybody's felt really privileged to have been part of the effort. It's been really hard work, but we've had a unique window into what was happening and the process that went toward the Prime Minister's 1pm media conference each day."
He says his group of scientists all took their access to data extremely seriously.
"So what MP Hamish Walker and Michelle Boag did with patient data felt like a real slap in the face. We've been dealing with similar data, although many of the details they had were not available to us, so to see a politician casually access this and then use it to vilify people was shocking."
He says keeping busy during lockdown was a privilege. "Psychologically it always feels better in a crisis to be doing something to help, despite being under considerable stress at times."
Shaun and Dr Siouxsie Wiles were key scientific voices from the University, and their expertise was complemented by Otago University's expert, Professor Michael Baker.
"Michael has deep expertise in the epidemiology, while my team has the modelling and quantitative skills. Expertise in science communication though is also very important. Michael's very good at that and Siouxsie is extremely accomplished – her partnership with The Spinoff was communication at its finest."
Shaun says it was a case of working towards the common good.
"Siouxsie and I had discussions with Michael from time to time and would say, what do we think about this? What should we be emphasising right now? We'd exchange views so that we weren't cutting across each other and confusing the public."
He says unlike Siouxsie he didn't suffer personal attacks. "Siouxsie has an international profile which exposes her to a greater number of people and some people were commenting on her appearance. That just never comes up for me."
The author of Silencing Science and #NoFly can see the irony in both those titles today. But he notes that the government isn't silencing science right now – it has listened to the expert opinion of scientists to tackle the Covid-19 threat.
"Politicians don't need to be experts. They do have to be able to weigh evidence, and they do have to have access to expertise they trust. There was an extremely high level of trust between the Prime Minister and her science advisers."
He says that needs to be the case always, especially in matters as important as climate change. "Politicians need good relationships with experts, and those experts need to be able to tell those politicians things they don't want to hear and potentially to say those things in public."
Shaun and his team are committed to working on the Covid-19 response until next March, although with an election coming up other scientific subjects may come to the fore.
"The lead-up to an election requires good communication and informed discussion on scientific issues in a way that people understand and listen to," he says. "The easiest choice is to stay quiet or avoid contentious issues, but that's a bit of a cop-out. Traditionally we've tended to want to ignore the politics and work behind the scenes but the science community is getting better at navigating contentious issues in public.
"Even if you don't think your science is going to be on the front page during the election period, it's still really important you've thought through the ethical and political issues that might confront you if it were to be. It might be you who gets that email from the police one day."
– Denise Montgomery
 
This article first appeared in the August 2020 issue of UniNews.