University of Auckland lecturer is supreme winner of 2020 Tertiary Teaching Excellence Awards
Dr Rhys Jones, (Ngāti Kahungunu), senior lecturer in the Faculty of Medical and Health Sciences (FMHS) is the overall winner of the 2020 Tertiary Teaching Excellence Awards, receiving the Prime Minister's Supreme Award in an online ceremony on 1 September.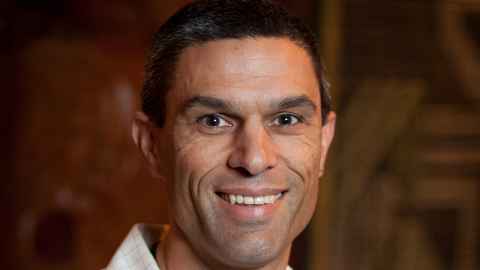 Director of Teaching at Te Kupenga Hauora Māori, Dr Rhys Jones was one of nine recipients recognised in this year's Ako Aotearoa New Zealand Tertiary Teaching Excellence Awards. He was one of five awardees from the Kaupapa Māori Category – the highest number of Kaupapa Māori teachers to be recognised in any one year since the category was introduced in 2010. He was one of three finalists from the University of Auckland.
Dean of FMHS, Professor John Fraser, said that the faculty and the University were thrilled that Dr Jones' contribution was recognised at a national level.
"We are all extremely proud of Rhys. He makes such an important contribution to teaching in the faculty and we are delighted that his excellence has been recognised by such a prestigious honour."
Dr Jones, a public health physician, is acknowledged as an outstanding champion of teaching and learning who weaves together values from te ao Māori, Kaupapa Māori frameworks, Indigenous peoples' human rights and medicine. A Māori public health physician as well as senior lecturer in the Te Kupenga Hauora Māori unit, his teaching excellence is 'courageous, transformative, and emancipatory' according to his peers.
Dr Jones is at the forefront of Māori and Indigenous advocacy in medical health science in both Aotearoa New Zealand and on the world stage.
Dr Jones says medical health inequalities require care and depth in teaching and learning.
"Many students find this confronting," he says. "It involves questioning of accepted 'truths' about New Zealand history and society, and engagement with concepts such as colonisation, racism and privilege." 
He considers himself and his students as agents of change and refers to the need for "lifelong transformative processes to unlearn bias" thereby providing students with the tools for developing critical consciousness.
Appreciation of Dr Jones as a teacher of distinction is articulated by this student: "Rhys's skilful and soulful capacity to hold a room of any size, from a lecture theatre to a cosy postgraduate classroom, while thoroughly – yet, respectfully and even kindly – deconstructing and re-educating a student's racist thinking is truly phenomenal."
His teaching excellence is 'courageous, transformative, and emancipatory'.

The awards were introduced by the government in 2001, to acknowledge excellence in tertiary teaching. Presenting this year's award Minister of Education, Chris Hipkins, said that Dr Jones' application was one of the most elegant and dignified learning portfolios the panel had ever judged and stood out for its global impact as well as Dr Jones he plays in Aotearoa New Zealand.
The other outstanding University of Auckland teachers recognised this year were Anuj Bhargava, also from the Faculty of Medical and Health Sciences, and Dr Maxine Lewis from the Faculty of Arts. They were both acknowledged in the general category. 
This is the second consecutive year the University of Auckland has won the Prime Minister's Supreme Award. In 2019, it was presented to Andrew Eberhard from the Auckland Business School.