Business School student sails into top spot in Blues Awards
Bachelor of Commerce student Brianna Reynolds-Smith has been named Sportswoman of the Year in the 2020 Blues Awards for her achievements in sailing in an announcement today.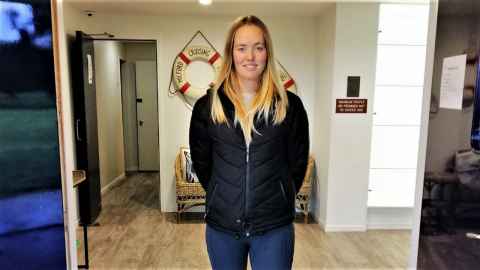 Brianna, a professional sailor of 470 class dingy style yachts, placed 15th at the 2019 470 World Championship in Enoshima in Japan, 7th at the Enoshima World Cup and 1st with the female team at the 2020 470 NZ Championships along with partner Susannah Pyatt. The team were also accepted to represent New Zealand at the Tokyo 2020 Olympics prior to its cancellation.
Brianna first started sailing at 11 years old when she and her sister joined a learn-to-sail programme, following in the footsteps of their older brother, also a professional sailor in keel class yachts.
Now in her first year of a double major in Commercial Law and International Business, Brianna has had to juggle her commitment to the sport with her studies.  
"I was doing assignments the night after a regatta, which was really weird. So, it was just about fitting it in where I could. And taking papers that I could do offshore where I didn't require attendance was really key."
Support from the University's High Performance Support Programme, working with staff at the Business School has also helped Brianna to balance her time between sailing and studying.
"They have enabled me to be a lot more flexible with my studies, communicating with my lecturers and making sure that my schedules are all workable. And my lecturers at the Business School have been great with giving me attendance leave so I haven't lost any marks from not attending classes."
Now Brianna's focus is on preparing herself for the 2024 Olympics while also planning her transition into a career.
"I want to have my degree by the time I finish campaigning and some workplace experience as well. I'm currently the junior coordinator at Milford Cruising Clubs running their junior sailing programme. It's pretty much a business because I have to organise everything, from price writing to communications, and there have been lots of learnings there."
Find out more about the Blues Awards and the 2020 winners here.