Dr Rhys Jones: 'We need to provoke discomfort to spark change in Māori health'
Dr Rhys Jones' passion for raising awareness of Māori health inequities is at the heart of his teaching.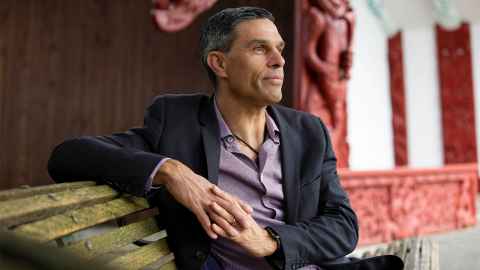 Although Dr Rhys Jones won the Prime Minister's Supreme Award for tertiary teaching excellence at an online ceremony in September, he admits to feeling a bit uncomfortable about the win.

Yes, he had entered the awards but he didn't feel like he should be honoured alone.

"I felt a bit of discomfort getting an individual award for what I really see as a collective achievement," says Rhys (Ngāti Kahungunu), a senior lecturer in the Faculty of Medical and Health Sciences (FMHS).

The supreme winner was selected from the nine winners of Sustained Excellence in Tertiary Teaching, and Rhys had won in the Kaupapa Māori category.

"I think it's recognition of a whole lot of work that's gone on over a number of years, by many different people. I've just been privileged to lead some of that."

Humility may play a part in that. But the award has shone a spotlight on the work being done at the University in Māori health education.

"Teaching students about Māori health involves discussing the social determinants of health inequities," says Rhys.

"That means examining structural factors in our society and the health system, and that includes colonisation and racism.

"These are the underlying causes of the unequal distribution of the factors affecting people's health, such as income, education and housing."

Rhys is a public health specialist who did his medical training at Auckland before returning to his hometown in Taradale, Hawke's Bay, to work as a junior doctor at Napier hospital. After a brief stint as a locum at a GP practice, he headed on his OE for two years. On his return, he undertook specialty training in public health medicine before taking up a job at the University. He is now Co-Director of Teaching within Te Kupenga Hauora Māori (TKHM), the Department of Māori Health.
He says his postgraduate certificate in clinical education was an important step in the path he's taken.

"I felt like many University academics probably do; you come into a teaching role without any formal training as an educator.

"You're expected to teach, but you haven't gone the same route as a primary or secondary teacher.

"Getting some understanding of basic adult education principles led me to start looking at our teaching programmes with fresh eyes."  
We're exposed to ideas and narratives that shape our beliefs and create
our biases. It's not about being a bad person; we're all prone to biases as a
result of societal racism.
He started to see possibilities to improve Māori and Indigenous health curricula.

"I was quite taken with the idea of focusing on graduate outcomes – what we want our graduates to be able to do by the time they've finished with us," he says.

"Then to work back from there to get people to that point."

He says that led to the development of the graduate profile in Māori health, Te Ara, which put a stake in the ground about the key competencies or attributes needed by students across all the undergraduate programmes in the FMHS.

"I worked with Professor Papaarangi Reid and education specialist Barbara O'Connor, who's now retired, to develop and integrate Te Ara. Since then I have worked with many others, both within TKHM and across the Faculty, to advance this kaupapa."

Rhys says the primary goal of kaupapa Māori health education is for learners to become 'agents of change', which requires developing a critical awareness of systemic and structural factors that perpetuate health inequities. He is motivated by social justice and believes education can achieve change.

Students in Rhys's classes say that his unpacking of how social systems impact on health status is a transformative experience.

One medical student, Emma Espiner, says Rhys explains concepts around Māori health and racism "in a way that's accessible and allows people that might not have considered things like this before to change their thinking and to really educate themselves".

"I try not to take a blaming approach when talking about Māori health and health inequities," explains Rhys.

"I try to raise the issues in a way that doesn't make students feel guilty or ashamed.

"One of the most challenging things has been how to talk about Māori health in a way that doesn't get people's backs up. I prefer it to be mana-enhancing, while at the same time provoking the discomfort that's needed to spark change.

"When we're talking about biases and racism, I try to frame that as 'we've all been conditioned, to a certain extent, by our racialised society'.

"We're exposed to ideas and narratives that shape our own beliefs and create our biases.
"It's not about being a bad person; we're all prone to biases as a result of societal racism."
He says discussions about discrimination and inequities shouldn't be avoided.

"I'd like to see us get to a place where we could just talk more openly about racism and related things without getting agitated and tiptoeing around the debate. Racism is such a sensitive word and subject but it should be something we feel comfortable talking about."  
I'm a real introvert so it seems very bizarre to me that I've ended up in this profession.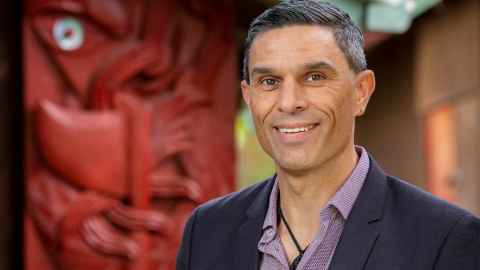 He says some students coming into the Māori health component of their studies may feel some resistance, thinking they are just going to learn about Māori culture rather than be involved in a broader discussion about issues such as colonisation and structural racism.

"It goes back to that whole blaming/not blaming thing," says Rhys. "I always try to use words like 'we' and 'us' and include myself rather than say 'you'. I think that's the best way to reinforce the need to confront these things without it being punitive. I don't say 'you need to address your biases'."

He says one of the things he's aware of though, is the 'unlearning' that can occur when students enter the clinical teaching environment and after they graduate, when working in hospitals or practices.

"I've been thinking about the whole learning and training continuum for health professionals. One of the things we do get concerned about is that there'll be some unlearning that goes on.

"That's a tricky one. Often our graduates are exposed to some quite different ideas and discourses about Māori health and health inequalities.

"They'll spend time with clinical supervisors, it's the apprenticeship-type model, and that might be someone who hasn't been through comprehensive Māori health and cultural safety education."

But what he can focus on is ensuring students coming through Auckland have achieved key learning outcomes in relation to Māori health. Building a culturally safe health-sector workforce through education is important to Rhys who comes from a family of educators. His father was a maths teacher and his mother is a special education teacher.

His success as an educator has previously been lauded. He is recognised worldwide as a leader in Indigenous health education and research. In 2005-06, he was a Harkness Fellow in Health Care Policy at Harvard Medical School in Boston, US. In 2018, he received the FMHS Butland Award for Leadership in Teaching and, in 2019, the University of Auckland Teaching Excellence Award for Leadership in Teaching and Learning. He won the LIMElight Award for Leading Innovation in Curriculum Implementation in 2011 and for Excellence in Indigenous Health Education Research in 2019.

Rhys shares his knowledge at home too, where he and his wife, Jo, are parents to three sons, a 13-year-old and 16-year-old twins. He has coached his sons' football teams, and tries to get them interested in his other socially significant subject of interest, climate action.

Lockdown Level Four while coping with three teenagers' lessons "was interesting" but you get the sense he was pretty relaxed about it. He also made sure he got out for a bike ride as often as possible.

Despite all the accolades he's received for his teaching, Rhys makes a surprising admission about his career path.

"It was actually a huge challenge for me in the early days coming into teaching because I'm certainly not one of those people who likes the limelight or likes to be the big star. I'm a real introvert so it seems very bizarre to me that I've ended up in this profession.

"I never really enjoyed public speaking and it was only when I started doing a little bit of teaching before I came into the University, such as guest lectures while I was going through my public health medicine training, that I thought maybe I could do it.

"I was terrified at the time, but then ended up getting good feedback. And I thought, oh, maybe the students can relate to me. Then it gradually got easier."
– Denise Montgomery