Paula Morris: in the footsteps of Robin Hyde
With nowhere to head overseas, Associate Professor Paula Morris stayed home and walked in the footsteps of Robin Hyde, for a while at least.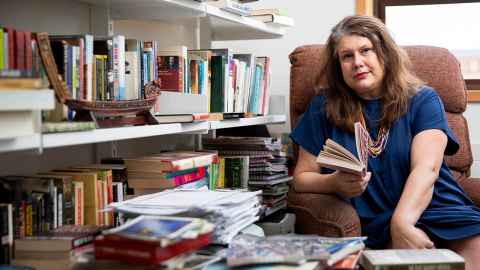 Searching for silver linings is a reasonably common endeavour in 2020.

Associate Professor Paula Morris's silver lining has been having the operation on her leg she'd been putting off because of the travel she'd planned this year.
So, not silver really, more of an essential element.

"I've had surgery to fix various problems with my foot and that's included breaking a few bones and also repairing my tendons," she says.

Paula, director of the University's Master of Creative Writing Programme in the Faculty of Arts, was in a cast for eight weeks, then a moonboot. She moved around with a foot scooter and a hauling technique for stairs, the indignity of which is familiar to those who've endured such injuries.

Much less painful has been the chance to dedicate serious writing time to work on a collaborative book, Shining Land, out this month. It's the second in the kōrero series of 'picture books for grown-ups', edited by Lloyd Jones and showcasing collaborations between leading New Zealand writers and artists. Paula was paired with landscape photographer Haru Sameshima to explore locations of significance in the problematic life of New Zealand journalist, poet, fiction writer and war correspondent Robin Hyde.

Paula (Ngāti Wai, Ngāti Manuhiri, Ngāti Whātua) is speaking from the one-bedroom Auckland apartment in which she's spent much of the year thanks to lockdowns.
It's a surreal scenario far removed from the serenity and freedom of Menton in southern France, where she spent half of 2019 as the Arts Foundation's Katherine Mansfield Menton Fellow. She was supposed to go to Menton again this year for a 50th-anniversary celebration of the Fellowship. But, Covid.

"Originally I wasn't going to be able to have the leg operation before November, because I had so much travel planned, including six weeks in North America and Europe and a residency in China."

With that cancelled, Paula and husband Tom Moody travelled around New Zealand before the first lockdown, visiting regions and landmarks important to Robin Hyde. Locations included Whanganui, Rotorua and a place Paula hadn't visited before, Whangaroa Harbour.

Haru, a prominent landscape photographer who emigrated to New Zealand in 1973 and has a Master of Fine Arts from Elam, did not know Hyde's work but immersed himself in biographies. He embarked on his own trip, separate to Paula, to capture photos of the key places special to Hyde, including Hanmer Springs.

Once back in her apartment, Paula was forced to focus on getting the book written.

"If Covid-19 hadn't happened, I would have got the work done in Europe, but the whole process would have taken longer and been less intense. I would have interrupted it to take up an invitation to Banff in Canada, for example. Instead, I worked on it for hours and hours at a desk in the bedroom.

"So, I didn't get to do the work overseas as I thought I'd do, but I've done different work here at home, with access to my books. I have to look at the positives."
Robin Hyde was writing books, researching, editing, trying to support herself, and trying to get money for her son Derek. It was perhaps inevitable she would collapse in some way.
That's not to downplay the challenges of long lockdowns and then not being mobile because of her leg. Travel and writing retreats have been a big part of Paula's life.

She takes a sip from a cup emblazoned with the word Latvia, the closest she's going to get to one of her favourite places for a while. "I absolutely love Latvia. Tom and I were supposed to be going there too, in June. I've had two residencies in Ventspils and it's a really productive place.

"I find travel enormously stimulating and it's often a way of escaping everything I have to do at home … boards and committees and organisations and request to do things," she says.

"They're all an important part of my life but when I am away, I can be someone else, I can just be a writer. Which is, after all, my core identity."

It was also Robin Hyde's core identity. Hyde's best-known work is her novel The Godwits Fly but the book that recently made an impression on Paula was Passport to Hell, an encounter of life in the trenches in World War One.

"When I was asked to write this book by Lloyd, The Godwits Fly was the main work I knew. It was sort of reclaimed as a feminist classic in the eighties. I wasn't really aware of her other work and how significant Passport to Hell was."

In an all-too-common example of not many degrees of separation, Paula now lives in Greys Avenue in the city, where Hyde, a journalist by occupation, spent much of her time in the 1930s, conducting interviews for Passport to Hell.

It wasn't the only physical connection she felt with Hyde, who was born Iris Wilkinson in South Africa in 1906 but who moved with her parents to Wellington before she'd turned one.

"I had read her biography and also read and reviewed, for Landfall, Your Unselfish Kindness, a collection of Hyde's personal writing and memoir fragments. I'd always been interested in her because she spent so much time in the building she called Grey Lodge, part of the old Avondale Hospital complex, now the Unitec campus.'

The Lodge in which Hyde lived on and off for four years was a ward in an Edwardian house on Gladstone Road that housed women residents all suffering from 'nervous disorders'.

"It's around the corner from my sister's house, so I'd passed it many times. I always thought, 'that's where Robin Hyde lived. She wrote most of the drafts of The Godwits Fly in that building'."

When Haru joined her on the project, "we read everything and became quite obsessive".
"It was a crash course for Haru, but one he embraced. He bought every book he could find and became really interested in her work and life."

Paula and Haru got permission to visit Grey Lodge and photograph the attic where Hyde worked on her books.

Hyde's life had been challenging. By the time she'd died, aged 33, she had delivered two babies in secret, one of whom was stillborn, worked at numerous newspapers, reported from the frontline in China, and spent time in psychiatric institutions. She had also written prolifically, challenging writing conventions of the time and the hypocrisies of the era in which she lived. She was scraping together a living to contribute to the care of her son, Derek Challis, who was in foster care. Derek, still alive today, is the co-author of a landmark biography of his mother, called The Book of Iris: A Life of Robin Hyde (Auckland University Press, 2002).

"I think Robin got really overtired," says Paula. "She would work and work, she was super industrious. She was writing books, she was researching, editing, trying to support herself, trying to get money for Derek. It was perhaps inevitable she would collapse in some way.

"When I was studying her life, including her fateful trip to China on her way to the UK, where she ended up getting drawn into war reporting, I realised how hard it must have been for her.

"This was a woman who walked with a severe limp and needed a walking stick. Yet she was climbing hills and reporting from the front line. She got viciously beaten, she injured herself, she got sick and she was captured by the Japanese."
When I am away, I can be someone else, I can just be a writer. Which is, after all, my core identity.
After Hyde's escape from the mainland, she spent time in hospitals in Hong Kong and London.
"She was physically debilitated," says Paula. "What she actually witnessed in war gave her what we would now call post-traumatic stress disorder."
Travelling around New Zealand but not being able to see many of the physical structures that were significant to Hyde's life meant Paula drew on some of her own creative talents.

"I found it enormously stimulating and productive. We couldn't travel to faraway places this year, so we travelled imaginatively into the past. Often you go to a place and there are very few relics of buildings still standing that you're interested in. If you go to Whangaroa Harbour, you're not going to find the little shack she stayed in. You're piecing together clues, but you can never fully really recreate what's lost."
Another assignment Paula found stimulating emerged as a result of Level Four Lockdown. Paula hosted the first online-only series of the Auckland Writers' Festival. It ran for 13 weeks at 9am each Sunday and featured live interviews with 23 international and 17 local writers.
"That was massive. It consumed us for three months. Tom did the research and I couldn't have done it without his help. Luckily, I'm a quick reader, so I'd be reading the books and he'd be compiling the bios and other research materials.
"I've become fast at reading because of all the students' manuscripts I read and the book reviews I write – I have to be quick and very focused, but also thorough."

She also needs time to work on her own writing – she's an award-winning author of four novels, three books of non-fiction, four young adult books under her own name and the many she ghost-writes, as well as many essays and collections of short stories. In 2019 she was made a Member of the NZ Order of Merit for services to literature.
She's not full-time at the University and the ghost-writing is largely driven by being paid work.

"I'm not going to make a living from a speaking tour of New Zealand or appearing in festivals anytime soon. But I can make a reasonable amount for ghost-writing projects."
She won praise for her interviewing techniques for the Auckland Writers' Festival and wouldn't mind if her talents there led to similar work.
"We got good feedback and terrific viewer numbers, including lots of people overseas, which was great, but whether it leads to anything else, I'm not sure. I hope so."
Not that she has a lot of time. Paula sits on a number of literature-related boards, including the Māori Literature Trust, the NZ Book Awards Trust, the Mātātuhi Foundation and the Coalition for Books. In 2016 she set up the Academy of New Zealand Literature, Te Whare Mātātuhi o Aotearoa, an initiative to promote the work of 120 accomplished contemporary New Zealand writers. The website includes in-depth features, interviews, book reviews and extracts.
After decades living overseas, Paula returned to her alma mater in 2015 to become the director of the Master of Creative Writing (MCW) programme. In the past few years, the MCW has produced an extraordinary crop of new published writers. Among the authors she interviewed for the festival were two of her students, Amy McDaid and Caroline Barron, who both had books published recently.
Others to publish in the past two years include P.J. McKay, Rose Carlyle, Rosetta Allan and Ruby Porter, now doing her PhD and tutoring undergraduate creative writers. All have appeared on bestseller lists.
So what's her secret to getting writers ready to publish?
"I give really to-the-point, blunt and thorough criticism," she says. "It's why some undergraduates don't like me. With masters students, I do warn them. We send a lot of information to anyone who applies and I tell them to talk to previous students who've done the programme so they know what they are getting into. It's not a touchy-feely feel-good class.
"We have a huge focus on art and craft in our seminars and workshops every week concentrating on aspects of technique."
She also offers professional development for MCW alumni, covering the editing and publishing process. One of her own current editing projects is an anthology, with poet and novelist Alison Wong, of 75 emerging Asian New Zealand Writers. It's the first-ever anthology of Asian writing in New Zealand and is due out next April through Auckland University Press.
"We've worked on it for a year and it's been massive. It wasn't supposed to be 75 writers, originally we thought maybe 30 or 40," says Paula. "But we had a lot of really great material to work with – poetry, fiction and creative non-fiction."
Looking to the future, Paula's collaboration with Haru has made her think she'd like to work with him again. Lloyd Jones selects all the pairings in the kōrero series – the first was Lloyd himself and artist Euan Macleod who produced High Wire, and others forthcoming will include writers Bill Manhire and alumna Courtney Sina Meredith.

"This has been really good for me. Haru and I have talked about working together again, on a book in China about Robin Hyde's experience during the war there. Hopefully one day we can do that, if things ever change."

Denise Montgomery